5412 Courseview Dr.
Suite 205
Mason, OH 45040
Using Lantek SteelWork System, companies can manage production processes when designing and completing structural steel, sheet metal, and construction projects. Program supports 2D and 3D design, CNC programming of profiles, and ERP capabilities. Integrating with Tekla Structures® BIM software, Lantek SteelWork enables import of all structural components in complete project. Lantek...
Read More »
With Lantek Flex3D Profiles, users can design any type of standard profile and provide 3D simulation of head movement of machine, profiles, and machining operations of every tool. System then generates NC files to send directly to machine adapted to suit control of any profile or tube cutter. From manufacturing operations module in Lantek Expert III, user can run specific jobs, import DSTV files,...
Read More »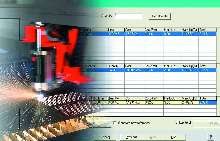 Lantek Expert III Quotes enables users to quote parts received in DXF format, existing parts in database, and parts received by fax or telephone. Drawing assistant allows user to make sketch of part in seconds. User selects required machinery for job, and system calculates cost. Estimate includes consumables and additional operations. User can compare costs by varying machine(s) used. When...
Read More »