Tyco International (US), Inc.
9 Roszel Rd.
Princeton, NJ 08540
Share:
Able to create dynamic baseline signature, Westlock XR-® Linear/Rotary Control Monitor conveys critical information to process managers. Stand-alone field device features non-contact sensor for positioning and fully encapsulated electronics modules for detailed performance information. Calibrated, commissioned, interrogated, and maintained via XRa software, monitor provides comparison graphs in...
Read More »
Certified under requirements of ASME Code Section I, pilot-operated Series 1500 is designed specifically for overpressure protection of economizers in fossil-fired power plants. All-plastic, soft seat valve operates as non-flowing modulating pilot, opens in proportion to relief demand, and is suitable for hot water, flashing water, and steam service. With no elastomer seats or seals, unit handles...
Read More »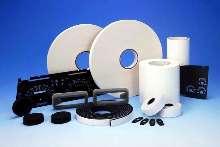 Series 9000 is comprised pressure-sensitive, solventless, double-coated or transfer tapes that bond to metals, most films and plastics, and range of rubber, sponge, and foam. Products are manufactured in master rolls of 54 and 60 in. usable by 250 linear yards, with slit sizes available. They have peel strength of 150 oz-in. and shear strength of +168 hours. Sample applications include gasketing,...
Read More »