1775 Breckinridge Pkwy.
Suite 500
Duluth, GA 30096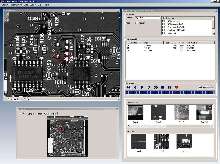 EasyPro user interface for circuit board inspection systems provides Inspection mode, Programming mode, and Service mode. All necessary programming tools are available continuously, without having to activate them separately. Interface integrates program optimization with parameter settings and editing of inspection pattern. File import from SPC software into programming software allows control...
Read More »
Independent of script fonts, software includes OCR (optical character recognition) feature that reads clear text and facilitates second source verification. OCR is used for placement verification, identification of version status, and information customization. Software also records serial numbers and component versions, allowing comparison with component labeling. Program recognizes all fonts...
Read More »