12628 Chillicothe Rd.
Unit J
Chesterland, OH 44026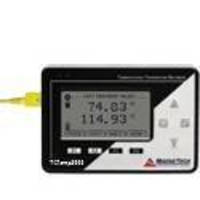 Designed to record and display temperature measurements from thermocouple, MadgeTech TCTemp2000 supports J, K, T, E, R, S, B, and N thermocouples. LCD can simultaneously display real-time data from thermocouple input and ambient temperature sensor while recording data to internal non-volatile memory. Run by battery or ac power, device stores up to 131,000 readings/channel and features sample rate...
Read More »
Suited for use with electric, gas and radiant ovens, single channel ThermoVault and 4 channel QuadThermoVault systems include temperature data loggers and thermal barriers that are designed to be passed through conveyor or batch ovens. They measure temperature profile of items as they pass through oven to determine how fast items heat/cool or how uniform temperature is across part or oven....
Read More »
Computer Aided Solutions is please to announce that we have entered into an agreement with MadgeTech to distribute their family of data loggers. These compact, battery powered data loggers are available in versions for temperature, humidity, voltage, current, pressure, pH, pulse count, strain and digital state. They offer programmable sample rates and high/low alarm limits with external LED...
Read More »
Comprised of 5-channel DT80 and 16-channel DT85, DT8x Series 2 offers universal input channels for thermocouples, thermistors, RTDs, voltage, current, resistance, frequency, and strain gauges along with digital I/O and counter channels. Web interface lets user check status, monitor real-time data, retrieve data, control data logger operation, and view manuals through web browser. In addition to...
Read More »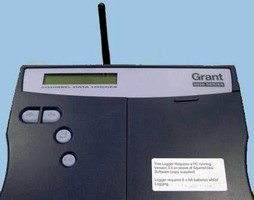 Suited for data collection applications on moving equipment or machinery, Squirrel 2020 data logger can integrate into existing wireless networks in laboratories, offices, and factories. It also enables remote data collection without need for communications cables or converter boxes. Unit offers 24-bit resolution, voltage measurements up to 60 Vdc, internal storage for up to 1.8 million readings,...
Read More »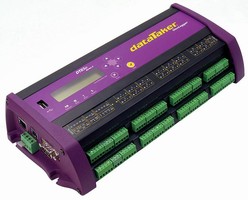 Supporting vibrating wire strain gauges and generic geologic sensors such as inclinometers, extensometers, piezometers, pressure cells, and crack/tilt meters, Models DT80G and DT85G feature 5 and 16 analog input channels for 5-15 and 16-48 sensors, respectively. They have 8 digital channels, 4 counter channels, and 1 relay output. Units offer up to 5 million points of internal data storage,...
Read More »
Expandable to up to 800 inputs with CEM20 modules, DT80G and DT85G support vibrating wire strain gauges and generic geologic sensors such as inclinometers, extensometers, piezometers, pressure cells, crack meters, and tilt meters. There are 5 analog input channels for 5-15 sensors on DT80G and 16 channels for 16-48 sensors on DT85G. Equipped with serial, USB, and Ethernet interfaces, both models...
Read More »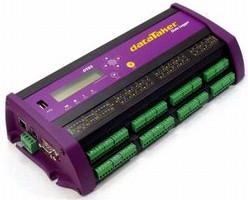 Using web interface, dataTaker DT85 Series 2 provides graphical display of up to 6 channels of real-time data, command interface, on-line documentation, and data retrieval with support for ASCII CSV files. Unit includes up to 48 differential analog inputs and 12 digital/counter channels, as well as USB, Ethernet, and Serial host interfaces. Input channels can measure thermocouples, RTD's,...
Read More »
Featuring dual channel technology, DataTaker DT85 offers up to 32 isolated or 48 common referenced analog inputs. Data logger features regulated 12 Vdc output, universal digital I/O, smart sensor ports, USB memory stick support, and Modbus for SCADA, Ethernet, WEB, FTP, and multiple SDI-12 sensor networks. Unit connects to various sensors for measurement of temperature, voltage, current, 4-20 mA...
Read More »