Global Lighting Technologies, Inc.
55 Andrews Circle
Brecksville, OH 44141
Share: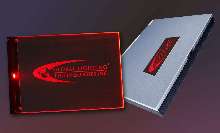 MicroLens(TM) molded light guides provide backlight that saves extra step of adding overlay and adhesive to illuminate logo on products. They enable full control of size, shape, depth, pitch, density, and angle of rotation. Utilizing white, green, red, or blue LEDs, uniformly illuminated logos can be designed with any text or image for applications including notebook computers, consumer...
Read More »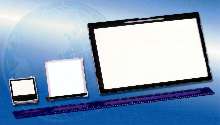 Color cell-phone backlight assembly provides luminance of >3000 cd/m-² for 1.5 in. diagonal screen, utilizing only 2 white LEDs at 15 mA. PDA backlight assembly utilizes 4 white LEDs and provides brightness of >2000 cd/m-² to 2.5 in. diagonal screen. MicroLens(TM) technology allows LEDs to be molded directly into light guide. CCFL light guide utilizes L-shaped CCFL to provide luminance of...
Read More »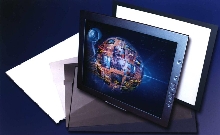 SolidState(TM) Cold Cathode Fluorescent Lamp (CCFL) backlight assembly is suited for use with 15-inch desktop TFT (thin film transistor) LCD monitors. Backlighting panel incorporates proprietary MicroLens(TM) technology, through which light extraction features are precision-molded into panel. Up to 30,000 optical features per square inch can be individually customized to optimize light ray...
Read More »