6221 Highway 7
Unit 15
Woodbridge, ON L4H CAN
Share:
Comprised of axially compact gear units constructed with lightweight materials, SHD-2UH-LW Lightweight Series has hollow input shaft andÂ- robust cross roller bearing that enable loads to be mounted directly to unit without additional support bearings. Gearhead incorporates flanged output and Harmonic Drive™ gear component into aluminum housing, and hollow shaft allows...
Read More »
maxon motor was challenged to deliver maximum power in the smallest possible space and the result is the EC 4 brushless motor The general problem with micro drives is that the power output is too low for the application, due to the physical dimensions. maxon increased the performance of this tiny motor using the latest winding technology, the most powerful magnets and optimum use of the air...
Read More »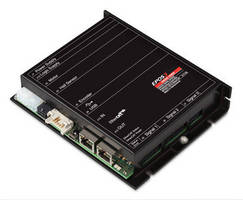 Meeting real-time positioning needs of synchronized multi-axis systems, EPOS3 70/10 EtherCAT Servo Drive has 11–70 Vdc power supply range, deliversÂ- continuous output current of 10 A (up to 25 A during acceleration and deceleration), and provides uniform running for motors equipped with incremental encoders. Designed for DC brushed and brushless motors with power range of...
Read More »
Versatility, power, and robustness for flat motors have a name: EC 60 flat The multitude of possible combinations makes the new EC 60 flat the ideal drive in a wide range of applications. Whether the focus is on high nominal torque, on high-dynamic positioning tasks with superb repetition accuracy, or on robustness and insensitivity against environmental conditions, the choice is all up to the...
Read More »
Designed for submerged oil operation, Model GP 22 HD features 1-5 stages and max overload torque up to 12 Nm. Heavy duty planetary gearbox operates at ambient temperatures up to 390°F and atmospheric pressures up to 25,000 psi. Offering service life of approximately 100-1,000 hours, unit withstands vibrations up to 25 grms and impulses/impacts up to 100 G.
Read More »
Measuring 3.9 x 4.3 x 1.3 in., Pocket PLC features 8 analog inputs, 8 analog outputs, 16 optically isolated inputs, 8 high-power isolated outputs, and 8 low-power isolated outputs. Unit integrates program memory with multitasking, as well as PID process control loops, timers, counters, Web interface, data logging, Ethernet 100Base-T, and RS232. Programmed via 2-letter commands and GalilTools...
Read More »