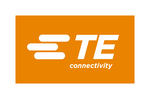 1050 Westlakes Dr.
Berwyn, PA 19312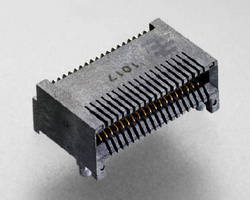 Designed to meet SFF-8436 industry standard, 38-position QSFP+ Connector offers optimal electrical performance for 40 Gbps InfiniBand and Ethernet applications. Unit will drop into existing QSFP and QSFP+ applications and mate with all compliant cable assemblies and optical transceivers. Internal contact and housing structure optimizes signal integrity in both upper and lower rows.
Read More »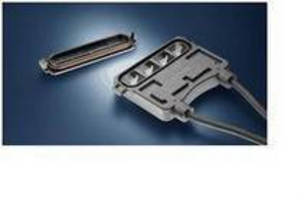 Featuring overmolded, 13 mm profile and segmented solder area, 4-rail compact medium junction box is used for terminating foils of PV panel and also helps solar industry OEMs conserve potting material when connecting solar panel foils. It can be applied on back sheet of solar panels with silicon glue or double-sided adhesive, and connecting pads are located in separate rectangular openings for...
Read More »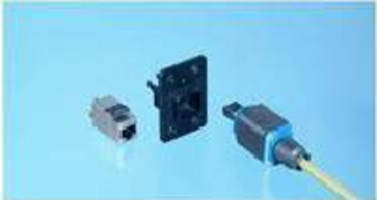 Designed for harsh industrial environments, IP65/67 Field Installable Ethernet RJ-45 Connector features push-pull mechanism that, together with jack-side frame, provides secure, sealed interconnection and makes connector able to withstand severe shock and vibration. Unit works with 4-wire AWG 22 and 8-wire AWG 26 cables, and comes with protective covers for plug and receptacle. Featuring...
Read More »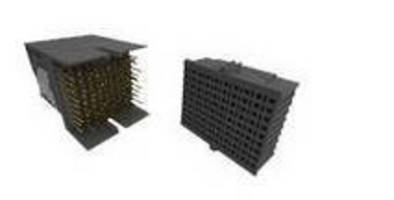 Supporting increasing bandwidth requirements in military and commercial aerospace applications, FORTIS ZD offers 10 Gbps+ data rate to enhance communications, situational awareness, command/control, and training applications. Ruggedized design withstands shock and vibration requirements of emerging military applications by combining metal shell; MIL-SPEC contacts; electric, high-speed contact...
Read More »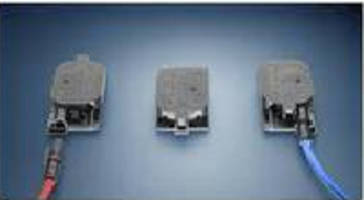 Featuring 18.5 mm profile, Decentralized Junction Box utilizes solderless Omega clip termination technique and is suitable for termination foils on crystalline PV panels. Design concept uses two 2-rail junction boxes separately located in corners of solar panels plus 1 small junction box in middle, enabling panel manufacturers to minimize use of jumper cable. Junction box meets IEC 61215 ed.2...
Read More »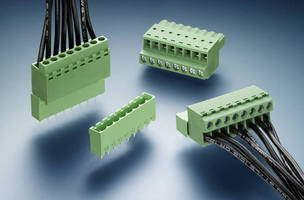 Offered in 5 and 5.08 mm centerline spacings, Front Style plugs feature wire entry cavity and activating screw head located on same plane, parallel to direction of plug. Plugs include combo-head styled captive screws, have UL 94 V0-rated housings, and are available in 2-12 positions, accommodating 14-24 AWG wires. UL-listed and CSA-certified devices suit applications including field wiring for...
Read More »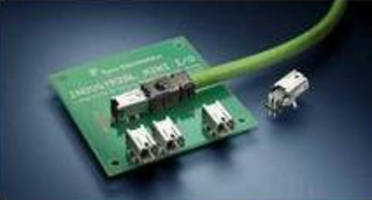 Providing 2 points of contact, Industrial Mini I/O Connector includes latching system that protects plug from pull-out during high-vibration or collision. Polarized, wire-to-board interface offers 2 keying options to prevent mismating and consists of 8 individual circuits to accommodate I/O signals. Operating from -40 to +70°C, connector features current rating of 0.5 A and voltage rating...
Read More »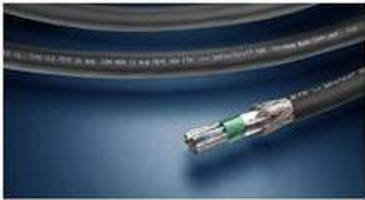 Madison Cable brand InfiniTwist cables simplify cable management in high-density systems via bend radius of less than 2.5X cable diameter. Cables exhibit virtually no pistoning of conductors or pairs, and twisted-pair design promotes flexibility as well as mechanical reliability while decreasing time delay skew. Offered in constructions of 1-36 pairs and above, cables utilize conductor sizes...
Read More »
Promoting multimedia engagement in high-traffic, commercial environments, Interactive Digital Signage touch systems incorporate zero-bezel, edge-to-edge glass touch-screen technology into large-format (32-46 in.), ruggedized LCD panels. While acoustic pulse recognition touch technology ensures consistent functionality, optional computer modules further optimize media bandwidth and interactivity...
Read More »