Stockwell Elastomerics, Inc.
4749 Tolbut St.
Philadelphia, PA 19136-1512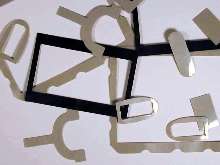 Flexible silicone rubber adhesive pads, LCD gaskets, and window gaskets are specified for hand-held and portable units requiring low-temperature functionality. Able to maintain consistent bond strength down to -70°F, 30 durometer silicone rubber substrate with silicone polymer adhesive on both sides allows for thermal expansion and contraction of mating plastic components and metal frames....
Read More »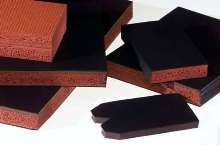 Rocket Motor Mounting Pads protect solid fuel rocket motors by cushioning motor housings against impact and excessive vibration. They are bonded to aluminum and steel chocks and support structures with conductive silicone rubber adhesive. A carbon filled conductive silicone coating is then applied to edges of pads to complete grounding path. Pads are offered in dimensions of 10-72 in. x 2-40 in....
Read More »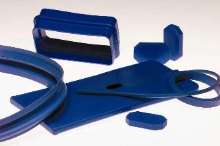 Fluorosilicone Rubber Gaskets and Cushioning Pads are supplied in die-cut, water jet-cut, and custom-molded configurations. Fluorinated silicone rubber offers resilience, high/low temperature stability, and resistance to aging and degradation from sunlight and ozone. Compounds are available to provide 40, 50, 60, and 70 durometer molded sheets, gaskets, and custom components. They can be...
Read More »