500 Oracle Parkway
Redwood City, CA 94065
Former Sage Customers Leap to the Internet Age with NetSuite NetSuite Offers Free Data Migration for Existing Sage Users SAN MATEO, Calif., Nov. 3 / -- NetSuite, Inc., the leader in on-demand business management software for small and mid-sized businesses, today announced that hundreds of companies have switched from Sage's fragmented, non-integrated product offerings including MAS90/200/500,...
Read More »
NetSuite v10.6 enables users to perform complex business functions that change data without regenerating browser page, extend NetSuite with any application, and integrate with applications such as Microsoft Office and Google Maps. To meets SMB needs, on-demand solution combines business intelligence and analytics with seamless business process management in one hosted application. It also...
Read More »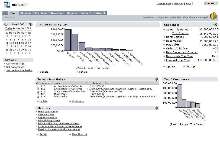 NetSuite v9.0 delivers intelligent and complete functionality that automates CRM, ERP, and Web operations for mid-sized companies. Designed with user-specific dashboard interface, software provides Xtreme List Editing, commission management and payment, and recurring billing features as well as matrix items. Additional offerings include complete UPS integration, integrated e-commerce, mail merge,...
Read More »