Digital Monitoring Products, Inc.
2500 N. Partnership Blvd.
Springfield, MO 65803
Share:
Offered in white, ivory, and black, 7100 Series Thinline(TM) LCD Keypad provides area, all/perimeter, or home/sleep/away modes as well as cancel/verify feature and shortcut keys. Keypad is available in 4 models: Model 7160, 7163, 7170, and 7173 which includes Soft-Shunt(TM) feature that provides entry and exit delay on systems with 24 hr perimeter protection. All keypads are compatible with all...
Read More »
Along with icons that guide user through operation, Thinline(TM) Series Icon Keypad provides visual and audible alarm notification as well as ability to silence system while armed. Cancel/Verify feature promotes security while reducing false alarms by enabling users to cancel or verify alarm directly at keypad. Model 7360 comes in white housing, and 7363 adds integrated proximity reader for...
Read More »
The sleek icon keypad, available in models 7360 and 7363, offer the same flexible features as a standard DMP keypad, but adds an LCD which displays intuitive icons and user messages, making it easier to read and use. Shortcut keys make operation faster for common arming functions. The keypad turns red in an alarm, visually alerting users that the alarm has been tripped. 7363 offers an integrated...
Read More »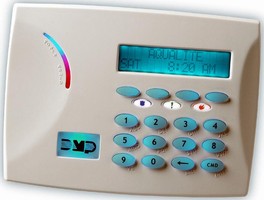 Equipped with Version 101 Firmware, 780 Keypad Demonstrator Module connects to any DMP 32-character LCD keypad to assist trainees/potential buyers in learning aspects of its operation and alarm system. It demonstrates Cancel/Verify false alarm prevention feature as well as how shortcut keys affect implementation of common arming functions. While simulating real-life situations, module provides...
Read More »
Springfield, Missouri-March 7, 2006-Digital Monitoring Products, DMP, will showcase the latest additions to its UL-listed 1100 Series two-way wireless line of receivers and transmitters at ISC West in Las Vegas. Dealers have been exceedingly happy with the advantages of two-way wireless supervision, said Vice President of Sales and Marketing Gary Kallman. "Our 1100-series two-way supervised...
Read More »
Springfield, Missouri- March 2, 2007 - Digital Monitoring Products (DMP) of Springfield, Missouri, a leading U.S. manufacturer of alarm control panels, has received the UL636 Holdup Alarm Units and Systems listing for the 1142 Two-Button Holdup Transmitter. Specifically designed for installation under the counter, the UL636-listed 1142 is a powerful solution for transmitting silent alarms in...
Read More »
Cancel/Verify speeds up alarm verification process by allowing end-users to verify alarms from the keypad Springfield, Missouri - February 23, 2007 - Digital Monitoring Products (DMP) of Springfield, MO, a leading U.S. manufacturer of alarm control panels, announced today the release of a new panel software upgrade that enables users to verify, cancel or abort alarms from the system keypad. The...
Read More »
Model XR500E Card Plus PIN v115 meets DCID 6/9 and other National Security program requirements for dual ID authentication for card access. Two code entries are required to operate XR500E Card Plus PIN system: first code is entered from Wiegand interface card using readers, such as built-in reader on DMP keypad. Second code could be keyed in at keypad or input through second card. User codes are...
Read More »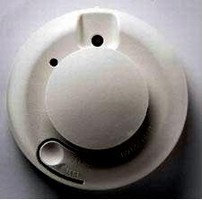 Used with 1100D series receivers and XRSuper6, XR20, and XR40 control panels, Model 1161 Smoke Detector and Model 1162 Smoke/Heat Detector are available with sounder. Models feature 2-way wireless communications, enabling one person to confirm transmitter communication with receiver. Red Survey LED turns on when transmitter sends data to receiver and turns off when receiver sends acknowledgement....
Read More »