691 N. Squirrel Rd
Ste 250
Auburn Hills, MI 48326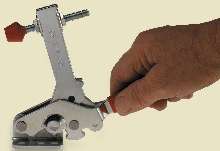 Series 2002, 2007, and 2010 manual hold-down toggle clamps feature low profile that offers respective holding capacities of 600, 1,000, and 1,400 lb. Clearance between handle and bar in open position eliminates additional pinch points, and pivot point is closer to mounting surface to improve vertical spindle contact on workpiece. Products offer multiple mounting hole patterns, and handles...
Read More »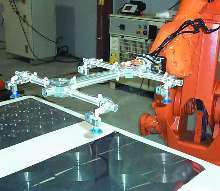 Configurable Modular End Effector Tooling System (MET) offers accessories such as automatic tool changers, compliance devices, robotic adapter plates, vacuum cups, and nipper mounts. Made of aluminum, it can be mounted to robot in end-mount cantilever style or mid-mount configuration. Features include 360° positioning, quick-disconnect air ports, vision camera mount, and bayonet with 4 air...
Read More »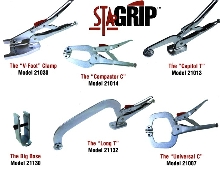 STA-Grip(TM) clamps come in 5 carbon steel models. Three models are available in non-magnetic stainless steel option. Holding capacities range from 225 to 674.5 lbs of pressure. Moveable pressure pads conform automatically to shape of workpiece, distributing pressure evenly and protecting vulnerable surfaces. Clamps are suitable for compact work areas ranging from delicate woodworking operations...
Read More »