13420 Reese Blvd. West
Huntersville, NC 28078
The Montrac transport system for intralogistics of plastic parts Huntersville March 20, 2008. With the Montrac transport system, intralogistic processes are optimized and productivity is increased as a result. When you have to increase productivity, the first idea is to increase the number of machines. Another option is to automate or to optimize the material flow. Often, a conventional transport...
Read More »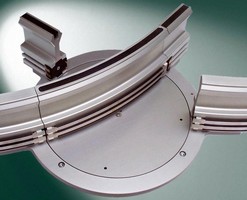 Montrac is available with TracSwitch Arena, which diverts shuttle from main track to secondary loop (bypass) and re-inserts shuttle onto main track when it leaves bypass. Switch is suited for long bypasses with several work stations and for 45 deg diversions. It has incoming and outgoing angle of 45 deg, so shuttle and conveyed workpieces move along diversion smoothly. Only one TracSwitch Arena...
Read More »
The Servoline-® product range is available as complete modules with Servo units and Servo axes products to allow the user to implement different applications with standard components. The telescopic Servo Horizontal Units (SHE) cover the lower range of strokes. The Servo Vertical Unit (SVE) is available to fulfill vertical movement requirements. The Servo Horizontal Axes (SHA) are available from...
Read More »