Rego Fix Tool Corp.
7752 Moller Rd., Indianapolis, IN, 46268, USA
Latest New Product News from
Rego Fix Tool Corp.
Material Handling & Storage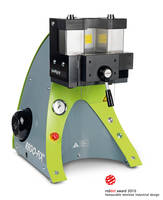 Dec 09, 2016
With cycle tests exceeding over 20,000 insertions and removals, PGU 9500 automatic clamping unit rely on interference between holder and collet to generate their clamping force. Using mechanical properties of holder material for generating tremendous gripping force, units take less than 10 seconds to be pressed in tool or to be removed from holder. With run-out below 0.0001 in., device's... Read More
Other Company News from
Rego Fix Tool Corp.