Best Sanitizers, Inc.
P.O. Box 1360, Penn Valley, CA, 95946, USA
Latest New Product News from
Best Sanitizers, Inc.
Cleaning Products & Equipment, Food Processing & Preparation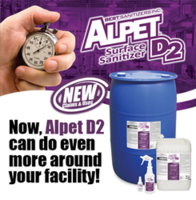 Dec 05, 2017
Suitable for water-sensitive, low-moisture equipment, food contact and non-food contact surfaces, Alpet D2 Surface Sanitizer is offered one quart bottles with trigger sprayers, 5 gallon pails, 5 gallon pails with insert and dip tube. Product kills 99.999% of tested pathogens in 60 seconds and disinfects pre-cleaned surfaces in five minutes.
Read More
Cleaning Products & Equipment, Food Processing & Preparation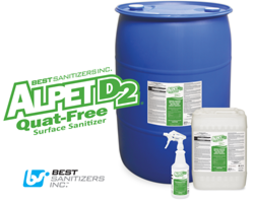 Oct 31, 2017
Alpet D2 Quat-Free Surface Sanitizer is offered in quart bottles with trigger sprayers, 5 gallon pails and 50 gallon drums. Unit allows user to reduce reintroducing of contaminants and is used to clean materials such as stainless steel, copper, aluminum and plastic. Product is NSF listed and can act as food and non-food contact option. Sanitizer is suitable for commercial brew house and home... Read More