1010 W. Bagley Rd.
Berea, OH 44017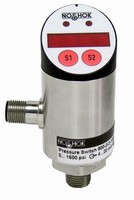 Series 800 Pressure Switch provides continuous pressure monitoring and allows programming of set points without unit pressurization. Set points, contact types, and switch function are adjustable using 2 buttons located below main 4-digit display. Switch incorporates an electronic pressure switch/pressure transducer combination with local indication and an analog output of 4 mA or 0-10 Vdc. Other...
Read More »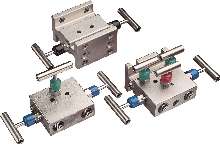 Manifold Valves, available with hard or soft seat, are made of both carbon steel and 316 stainless steel with inline pipe threads or flanged configurations. All are helium leak tested. Mounting hardware is available.
Read More »
Available with attachable, loop-powered indicator for local, digital display, 800 Series Resistance Type Temperature Transmitter offers 100 ohm resistance. Product accepts 10-30 Vdc input and has 4-20 mA output.
Read More »