1646 Terrace Drive
Roseville, MN 55113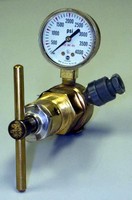 Featuring chamfered seal design, MITC Series Twistmate is designed to seal and test threaded ports on round parts such as regulators, bowl filters, and tanks. With full flow design that minimizes production losses from scrap, retesting, and rework, connector seals threaded ports without wrenches or thread sealant with twist-in motion. Device is available for 1/8 and 1/4 in. NPT threads and as...
Read More »
TwistMate® Adapter Kits facilitate connection of different sized male and female NPT threads with TwistMate test connectors and plugs. Adapter kits bridge different sized internal and external threads in any size combination between 1/8-1 in. Kits also connect female-to-female and male-to-male. TwistMate connectors are offered with 1/8-3 in. male and female NPT threads and handle leak-free...
Read More »
Lightning Dry Leak Detector performs pressure decay leak testing sensing pressure changes to 0.00005 psi. It provides self-diagnostic messages and setup procedures, and can be integrated into fully automated system. Test results can be downloaded on computer or PDA for analysis. Intuitive prompts on LED display make setting parameters easy. Automatic calibration system correlates pressure loss to...
Read More »