3M Center
Building 225-3S-06
Saint Paul, MN 55144
Share:
Designed for comfort and durability, 3M(TM) Ultimate FX Full Facepiece Reusable Respirator FF-400 Series includes cradle that helps with donning respirator and to reduce pressure and hair pulling. Six-strap head harness configuration ensures secure fit and silicone nose cup design provides comfort. Unit also has wide peripheral view lens, which is coated with Scotchgard(TM) Protector to help...
Read More »
Filtering facepiece respirator - 3M(TM) Particulate Respirator 8510, N95 - features cup shape and soft inner material that provides operator comfort with custom fit and secure seal. These features, along with braided straps and adjustable M-noseclip, promote user wearability. Use of 3M Advanced Electret Media (AEM) protects workers in workplace applications such as grinding, sanding, sweeping,...
Read More »
Charter companies, general aviation, and fixed-based operators can use 3M(TM) Mobile Advance Passenger Information System (APIS) Solution to collect, store, validate, and transmit APIS data for CBP passenger screening. Touchscreen-operated 3M(TM) Mobile ID Reader, included, reads and processes OCR data and communicates collected data via cellular and WiFi. Also included, 3M(TM) APIS Client/Server...
Read More »
Using sophisticated translation technology, 3M(TM) ICD-10 Code Translation Tool assists providers and payers in translating ICD-9 codes from existing information systems into language of ICD-10. Program identifies all reasonable ICD-10 alternatives for ICD-9 codes, and performs automated mappings where one-to-one map exists. Software then isolates remaining complex codes and provides user with...
Read More »
Products include Scotch Tough Duct Tape - No Residue, which leaves no adhesive behind for up to 6 months and has application range of up to 200°F. Also included is Scotch Tough Duct Tape - Extreme Hold, with double-thick adhesive layer; transparent tape; and all-weather tape that resists drying/cracking/peeling caused sunlight, heat, cold, and moisture. Outdoor painter's tape sticks to...
Read More »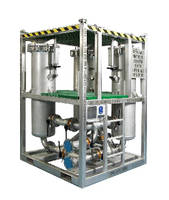 With absolute-rated performance from 1-70 Â-µ, Cuno High Flow Triplex Skid is suitable for filtration of small to medium volumes of fluids ranging from 200-20,000 bbl in both deck-side offshore and onshore applications. System houses 3 vessels and each 6½ dia x 40 in. long cartridge provides 13 m² filtration area, resulting in total of 117 m² effective filtration...
Read More »
ST. PAUL, Minn.--3M Library Systems has been awarded a turnkey project that will provide radio frequency identification (RFID) systems for circulation and inventory management and security at the Panjab University Library in Chandigarh, the capital of the Punjab region in northwest India. Known officially as the A.C. Joshi Library, in memory of a distinguished university vice chancellor, the...
Read More »
Designed to prevent workers from suffering hearing loss in food manufacturing industry, Optime Alert System is deployed at employee's work station to indicate average noise level in that area. Color coding system enables safety officers to choose appropriate hearing protection option, which helps to comply with Control of Noise at Work Regulations 2005.
Read More »
Able to withstand temperatures up to 260°C, High Temperature Masking Tapes offer protection when soldering during PCB manufacture. Several types feature backing that is designed to dissipate static, or to produce extremely low static charge during unwind and removal process. Water-soluble tapes dissolve during final cleaning process, without leaving residue. While other tapes contain...
Read More »