Precision AirConvey Corp.
465 Corporate Blvd.
Newark, DE 19702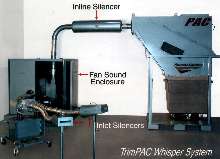 TrimPAC(TM) Whisper permits operation at 65 dBa sound pressure level. It includes inlet silencer, inline silencer, and fan silencer to block, absorb, and remove noise generated by high velocity movement of air and trim through system. TrimPAC delivers low decibel operation during cutting and evacuating of film, foil, laminate, paper, and other waste material from slitters and die cutters up to...
Read More »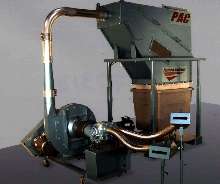 TrimPAC(TM) cuts and evacuates edge trim from slitters and die cutters to provide clog-free conveying. Pre-engineered with in-line cutter, material handling fan, piping, air separator, and 2 inlet pickups, TrimPAC conveys film, foil, laminate, paper and other water material up to 300 ft at 5,500 fpm. TrimPAC may be customized with pedestal base, silencer, static eliminator, and range of motors to...
Read More »