Industrial Specialties Mfg., Inc.
4091 S. Eliot St.
Englewood, CO 80110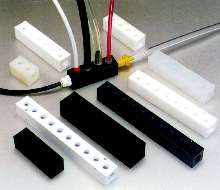 LNM Series compact manifolds are available in Nylon, Natural or Black Delrin-®, Teflon, Natural or Black Polypropylene, Kynar-®, and White or Gray PVC materials. Flow can be diverted to various ports, while unused ports can be plugged. Inlet ports range from -¼--½ in. female NPT and distribution ports range from 1/8-3/8 in. female NPT. Fittings and tubing are also available for product...
Read More »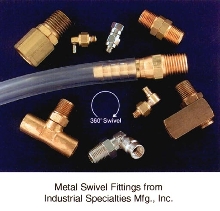 Metal Swivel Fittings are available in brass, nickel-plated brass or stainless steel, providing easy access in tight spots. They come in straight connectors, elbows and tees. Fittings can be provided in 10-32 through 1/2 NPT male or female threads and in 1/16 through 1/2 ID barb.
Read More »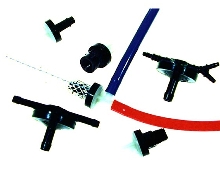 Used to control flow in vacuum or pressure lines, check valve permits flow in one direction only and prevents flow in opposite direction. Valves are manufactured with nylon bodies and fluorosilicone seals, operate in any orientation, and can be used for liquid service. Standard barbs are available in 3/16, 5/16 and 1/4 in. ID. Other barb sizes as well as thread or bulkhead fittings can be adapted...
Read More »