10793 Rte. 37 W.
Sunbury, OH 43074
Certified for outdoor use, MiniPAC-® is ETL listed and available in ranges from 100-600 cfm with 480/3/60 voltage. It can be installed as stand-alone unit or attached to any existing HVAC system. Unit is suited for small facilities in need of humidity control, including restaurants, homes, and labs. Pre- and post-cooling is optional.
Read More »
Designed to combat effects of moisture in areas up to 8,000 ft-², ETL-listed MiniPAC operates as stand-alone unit or attaches to central A/C system. It employs permanent, washable filters; desiccant rotor; front-mounted performance lights and tests ports; and round duct collars with hand-adjusted volume damper. To prevent mold or mildew from forming, unit has separate controls for humidity and...
Read More »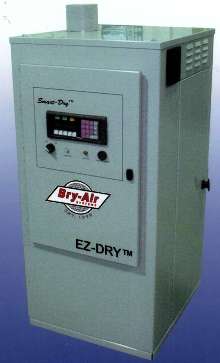 EZ-Dry(TM) desiccant rotor-based resin drying system employs rotor technology that eliminates dew-point spiking. High-volume dryer, designed for limited space/height/weight applications, offers capacities up to 600 lb/hr. Programmable Smart-Dry(TM) microprocessor-based diagnostic controller has 7-day timer and monitors dew point, process and regeneration temperatures, return-air temperatures, and...
Read More »