1065 National Dr.
Suite 1
Sacramento, CA 95834
Share:
Targeting industrial automation and other applicationsÂ- desiring expansion, U340 is offered with Intel® 6th Generation Core™ i7/i5/i3 processor and Intel Q-series PCH options. Standard configurations include several choices of DisplayPort, DVI, HDMI, or VGA graphics ports and Intel HD graphics cards. Along with PCIe, PCI, and mini-PCIe expansion options, features include HDD or SDD...
Read More »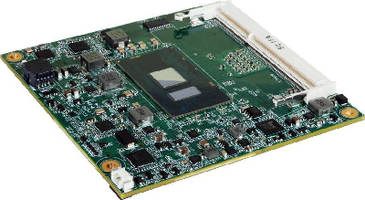 Equipped with 3.4 GHz dual core Intel® 6th Gen Core™ i7 processor, SU698 COM Express Compact module features dual DDR3L 16 GB memory with support for eight x1 PCIe expansion. Module is compliant to COM Express Compact R2.1, Type 6 and also offers display interface options of 1 VGA/DDI, 1 LVDS/eDP, and 1 DDI. Low-power COM Express Compact module, based on Intel Atom™ X5-E8000 processor...
Read More »