Adaptive Engineering Inc.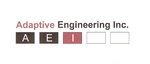 4033 14th Street S.E.
Calgary, AB T2G3K6 CAN
Today, we celebrated a big achievement in accessibility and inclusivity in our schools with the unveiling of a new portable wheelchair lift at Glencairn Public School. We strive to create an environment for all of our students and staff that values independence, dignity, inclusiveness and respect. This lift removes a significant barrier in our schools so that no one is excluded from fully and...
Read More »