B&K Precision Corporation
22820 Savi Ranch Pkwy.
Yorba Linda, CA 92887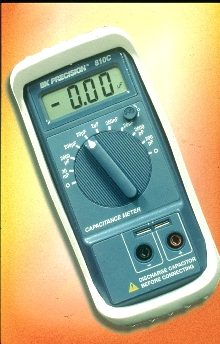 Battery-powered, portable hand-held Model 810C can be used for measuring most capacitive components. It has zero adjustment knob, front-panel 3-1/2 digit LED display, test lead jacks and direct plug-in test sockets. Range is 20 mf to 200 pf with accuracy of ± 0.5% of reading, + 0.5 pf. It weighs 10 oz and measures 5.7 x 3.0 x 1.6 in. Meter comes complete with 9V alkaline battery and user...
Read More »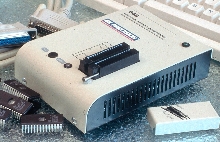 Model 848 has library of 2,500 devices and line of socket adapters to interface with almost any IC including PLCC, SOIC, TSOP, DIP, TQFP, SSOP, PSOP, or QFP. It is suitable for anyone who tests, repairs, programs or reprograms any electronic device using a memory IC, including EPROM, EEPROM/Flash, serial EPROM, microcontroller, and PLD systems. It comes with 32-pin ZIF socket that eliminates need...
Read More »