Automation Systems Interconnect, Inc.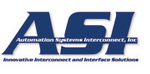 4700 Westport Dr.
Suite 500
Mechanicsburg, PA 17055
DIN rail mounted Terminator eliminates wire stripping, screw and spring clamps, wire ferrules, and accessories. It handles wires from 22 to 14 AWG, and is UL rated at 17.5 A, 450 V. Terminator module comes in 3 and 10 position feed through and disconnect versions. Disconnect version permits addition of fuse holders for 5 x 20 and 5 x 25 mm fuses. Its 3-point insulation displacement connection...
Read More »