Synario Design Automation Div., Data I/O Corp.
10525-T Willows Rd., N.E., P.O. Box 97046
Redmond, WA 98073-9746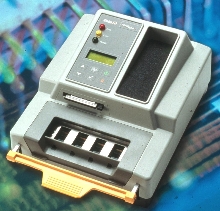 FlashPAK(TM) provides benefits of network control and programming architecture to manual Flash programming environments. Tabletop system has 4 sites for simultaneous programming of up to 4 fine-pitch Flash Memory devices at near theoretical minimum programming times. TaskLink(R) for Windows(R) Supervisor Software monitors FlashPAK work cell, keeping updates on job status, operator performance,...
Read More »