7153 Northland Dr. N.
Brooklyn Park, MN 55428
Share: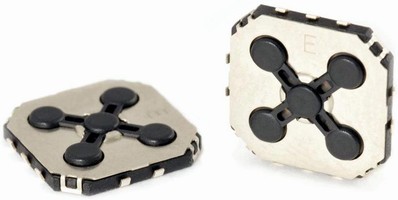 RoHS-compliant JS1300 Navigation Switch features multi-position, multi-switch functionality integrated into single package. With contact rating of 12 Vdc, 50 mA, SPST normally open switch exhibits typical operating life of 100,000 cycles. It is suited for use in hand-held instrumentation, laptop computers and peripherals, as well as other electronic devices.
Read More »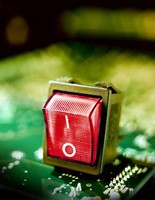 R5 series rocker switches feature contact rating of 15 A 250 V, 20 A 125 Vac, electrical life of 6,000 cycles, and mechanical life of 30,000 cycles. RoHs compliant switches are available in black or white housing and with 8 choices of markings. Illuminated versions come with neon lamp or incandescent bulb.
Read More »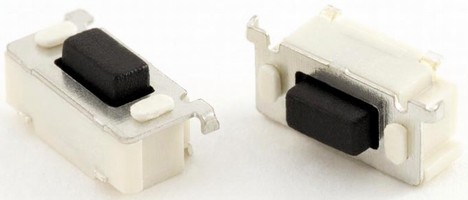 Available with gram force of 130 or 260, TL3330 right-angle SMT tactile switch series features profile suited for consumer electronic applications such as handheld devices and cell phones. RoHS-compliant product operates over -20 to +70°C range and exhibits mechanical life of up to 50,000 cycles. While initial max contact resistance is 100mW, min insulation resistance @ 100 V is 100 mW....
Read More »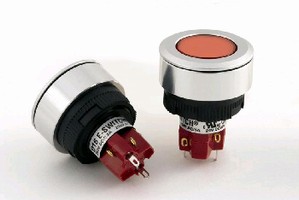 Available in many different colors and illumination options, flush-mount LA Series features brushed aluminum bezel and is sealed to IP65 standards. RoHS-compliant units offer contact ratings of 5 A at 250 Vac, 5 A at 125 Vac, .2 A at 250 Vdc, and 6 A at 24 Vdc. Switches are available with incandescent, neon, or LED options and are suited for outdoor, industrial, medical, audio/visual, and gaming...
Read More »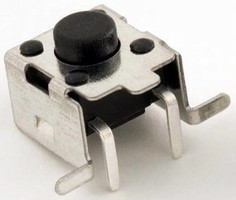 Specified over -20 to +70°C operating temperature range, TL3320 right-angle SMT tact switch features RoHS-compliant construction and has contact rating of 12 Vdc, 50 mA. Design allows PCB edge mounting and has rated mechanical life of 80,000 cycles. Markets and applications include consumer electronics, computers and peripherals, instrumentation, and telecommunications.
Read More »
Panel-mounted 100 series K allows toggle to be locked in any of 3 positions. Available in SP, DP, 3P, or 4P, switch offers functional options of ON-NONE-ON, ON-OFF-ON, and ON-ON-ON. It features plated brass and stainless steel construction, and is suited for instrumentation, test circuits, and industrial control equipment. Silver contacts are rated 5 A at 120 Vac or 28 Vdc; or 2 A at 250 Vdc,...
Read More »
Available with silver- or gold-plated contacts, 400B Series process sealed SMT rocker switch has low-profile design that measures 19.27 x 8.25 x 5.70 mm and permits right-angle mounting along edges of circuit boards. Actuator projects beyond circuit board far enough to be accessible through enclosure or instrument case slot. Options available for 3 rocker positions include: ON-None-ON;...
Read More »
Miniature SPDT EG1260 series features 2 optional SMT mounting configurations and 3 slide actuator sizes. Designed with electrical life of 10,000 cycles, products are rated at 0.3 A @ 4 Vdc. Designed with chamfered locating pins, dimensions are 0.106 x .264 x 0.055 in. Actuation force is rated at 150 g ±100 g with typ actuator travel of 0.089 in. Switches have silver plated contacts with...
Read More »
Model RP 3508 comes with or without illumination in SPST, off-(on) momentary or SPST, off-on. Contact ratings are 3 A at 125 Vac or 1.5 A at 250 Vac, with mechanical life estimated at 20,000 cycles. Accommodating panels up to 7 mm thick, switch features silver-plated solder lugs and sculptured squared flange measuring 18 x 18 mm. Knurled, threaded plastic lock-ring provides secure mounting...
Read More »