Mitsubishi Electric Automation, Inc.
500 Corporate Woods Pkwy.
Vernon Hills, IL 60061
Share:
Series 9800AD on-line, double-conversion UPS features 480 V input and 480 V output. Capacity ratings are 100, 150, 225, 300, 375, and 500 kVA. UPS module can be applied in single-module system configuration, or up to 8 UPS modules, of same kVA capacity, can be applied in parallel operation for multi-module system configuration. Each unit incorporates independent bypass circuit and control, and...
Read More »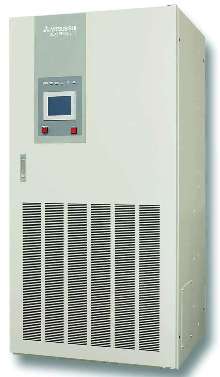 Series 2033D, with Insulated Gate Bipolar Transistors, offers true on-line double conversion UPS module with 480 V input and 480 or 208 V output specification. Equipped with internal wrap-around zero energy bypass system, series includes modules with 30, 50, and 80 kVA capacity ratings that offer ability of parallel operation of 2 UPS modules of same capacity. Features include dual inputs,...
Read More »

Q-Series Automation Platform employs multi-CPU architecture that allows designers to select and scale CPU types. Motion control is addressed by adding one Motion CPU, which is linked to company's servos via SSCNET motion control network. Motion control instructions are processed at rates to 888 -µS. Development tools include programming environment in Sequential Function Chart format. Cam...
Read More »