2400 Philmont Ave.
Huntingdon Valley, PA 19006
Share:
Fabricated from tungsten, rhenium, or iridium, filaments are available in straight, hairpin, V-shape, spiral, or special configurations with yttria or thoria coatings and plain ends or platinum tabs for welding. Coatings ensure burn-out resistant base metal and low-work function to facilitate operation in variety of operating conditions. Complete, custom-packaged and welded assemblies, inclusive...
Read More »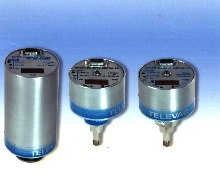 Models 7ER/FR, 2AR, and 4AR are analog or microprocessor-based gauges for stand-alone vacuum measurement and control. They provide local readout or direct interface with chart recorder or data acquisition system. Guages can be integrated into most process systems and measure in range of 10E+03 to 10E-11 Torr. They employ double-inverted magnetrons which withstand sudden in-rushes of gas, are...
Read More »