Yamaha Motor Corporation, U.S.A.

3065 Chastain Meadows Parkway
Marietta, GA 30066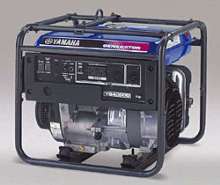 Able to run continuously for 11 hr, YG4000D employs 4-stroke OHV, 251 cc engine that produces 8.5 hp for max output of 4,000 W. It weighs 132 lb, occupies 6.0 ftÂ-³, and operates at noise level of 69 dB. Features include cast-iron cylinder liner, brushless alternator, and Oil Watch warning system. Auto decompression system and transistor controlled ignition ensure reliable operation. Fitted...
Read More »