535 N. Midland Ave.
Saddle Brook, NJ 07663
Share: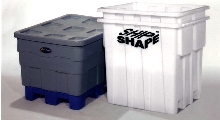 Ship Shape(TM) UV-resistant, rotationally molded plastic shipping and storage containers have permanent, molded-in serial numbers, FDA/USDA codes, company logos, addresses, symbols and other graphics, letters and numbers. Color text and graphics may be molded-in in any language or in multiple languages and in any type size or font. Weatherproof text and graphics are impervious to water and...
Read More »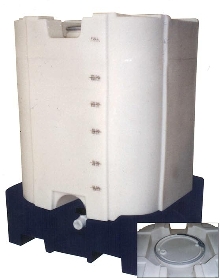 All-plastic intermediate bulk container accommodates double blade mixers for mixing multiple ingredients and raw materials. It enables food, chemical and other processors to mix and blend inside bulk container, eliminating need to mix in processing vessel and transfer to another container for shipping. It handles products with up to 1.5 specific gravity, stacks 2-high when full and 3-high when...
Read More »