3149 E. Kemper Rd.
Cincinnati, OH 45241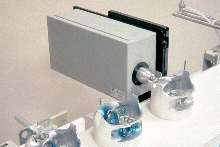 NDT-RAM(TM) Resonant Acoustic Method for Non-Destructive Testing system comes in kit configuration suited for integration with existing automated component handling systems. Product uses resonant inspection to test structural integrity of powder metal, cast or forged components. NDT-SEMI includes NDT-RAM software running LanSharc smart digital controller with NDT-MICI microphone sensor, electric...
Read More »
Based on TMS LanSharc(TM) Smart Digital Controller, ePIG(TM) (cutting Energy Process Integrity Gauge) uses statistical vibration analysis to alert machine operators of change in single spindle machine's condition. It runs constant diagnostics during cutting, milling, drilling, and boring without interrupting flow of production. Using non-intrusive vibration sensor, ePIG analyzes cutting energy...
Read More »