23 Walpole Park S.
Walpole, MA 02081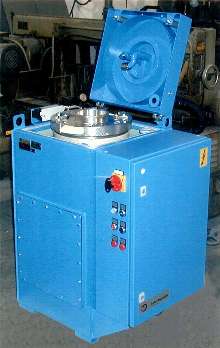 Turbo-Separator T10-2-16, featuring bowl rotational speeds of 3,000 rpm, can remove solids down to 2 micron at flow rates up to 26 gpm. It includes removable, self-draining plastic liner for sludge removal. Unit can reclaim up to 95% of captured fluid, and can be used to replace less efficient centrifuges or paper bed filters that become plugged with oil and solids. Turbo-Separator measures 28 x...
Read More »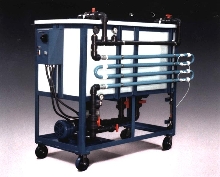 UF 250 ultrafiltration membrane system is designed to minimize disposal of oily wastewater for manufacturing facilities. System includes one, 180 gallon process tank with level controls; one, 50 gallon cleaning tank; and options such as transfer pump and free-oil removal separator. It is available as free standing component, or can be used in conjunction with existing waste treatment equipment....
Read More »
Centrifuge Recovery System cuts oils utilizing centrifugal technology. Depending upon metallurgy and viscosity of oil, solids can be removed to 2-5 micron with processing rates over 100 gallons per hour. Systems can be designed with ability to process water-soluble oils, synthetic coolants as well as cutting oils. Designs with virtually no fluid hold-up volume make it easy to move units to...
Read More »