9 Loveton Circle
Sparks, MD 21152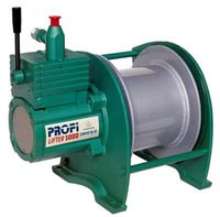 PROFI ECO Air Winches feature capacities of 500 and 800 kg, aluminum castings, and optional travel limit switch. PROFI LIFTER has capacities of 1,000 kg and 1,800 kg, while PROFI PULLER, with capacities of 1,600 kg and 3,000 kg, features free-spooling clutch for manual rope spooling while unloaded. All winches include drum integrated exhaust, air-cooled planetary gear, high rope capacity at...
Read More »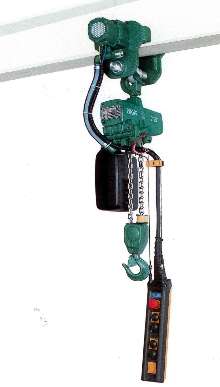 Motor Trolleys have compact design with hoist hook suspended and twist secured. They are easy to install and independent of beam flange width, which ranges from 50-200 mm. Twist bolt adjusts side plates and is secured by locknuts. Two-step motor produces low noise and allows lube-free operation, so no additional filter silencer is needed.
Read More »
Profi Series Air Hoists offer carrying capacities of 3.2, 6.3, 10, and 16 tons with nominal air pressure of 4 or 6 bar. They are supplied with emergency valve in main air supply, which allows energy supply to be separately shut off in case of emergency. Rotor of vane motor has chambers filled with grease, which continuously lubricate motor during operation. Reduced sound pressure level means less...
Read More »