250 East Beaton Dr.
West Fargo, ND 58078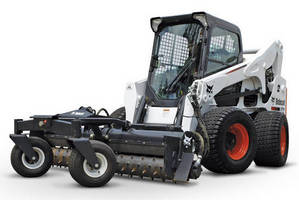 Offering switch-actuated all-wheel (AWS) and skid-steer drive options, A770 suits applications requiring low ground disturbance, reduced tire wear, and fast travel speed as well as maneuverability. Features include vertical lift path, 132 in. lift height, 31.5 in. reach, and 42° dump angle. With 12.6 turning dia in AWS mode and 7.2 ft in skid-steer mode, loader employs 2-speed transmission...
Read More »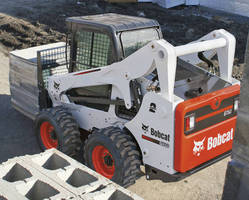 Model S750 skid-steer loader features 11 ft of vertical lift, 23 gpm standard hydraulic flow, operating weight of 8,730 lb, and rated operating capacity of 3,200 lb. Loader is powered by 85 hp turbo-diesel engine and has cab-forward design that provides visibility in all directions. In addition to keyless start that helps prevent theft, cab features include 5 in. color LCD and instrumentation...
Read More »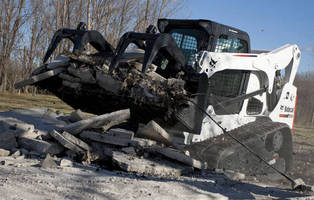 Powered by 85 hp turbo-diesel engine, T750 has rated operating capacity of 3,325 lb, lift height-to-hinge pin measurement of 132 in., 23 gpm standard hydraulic flow, and operating weight of 10,327 lb. Panel intelligently monitors key loader functions, and keyless start helps prevent theft. Mounted directly to front plate of lift arm, auxiliary hydraulic quick couplers provide solid mounting, and...
Read More »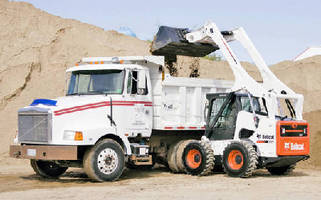 Equipped with Deluxe Instrumentation Panel that monitors key loader functions, 10,008-lb M-Series S850 Skid-Steer Loader has rated operating capacity of 3,875 lb, while 12,678-lb T870 Track Loader has ROC of 3,325 lb. Standard auxiliary hydraulic flow is 23 gpm at 3,500 psi on S850 and 23.8 gpm on T870. Cab-forward design moves operator closer to attachment and provides visibility in all...
Read More »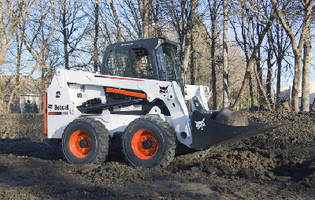 Available in 62, 68, 74, and 82 in. widths, Rock Buckets clear unwanted objects from soil. Tines are fully gusseted on each side and interconnected to one another for strength. Skeletal design allows for cutting edge of attachment to always be visible to operator. Buckets are approved for use on Bobcat skid-steer loaders, compact track loaders, all-wheel steer loaders, Toolcat utility work...
Read More »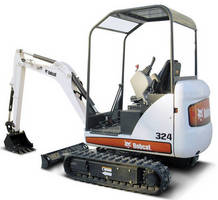 Offered as conventional tail swing unit in 1.5 ton operating class, Bobcat® 324 has boom cylinder attached to top of boom with cast pivot joints. Max dig depth is 8 ft 6 in., reach at ground level is 14 ft, and dump height clearance is 8 ft 8 in. In addition to hydraulically retractable undercarriage, excavator features 13.9 hp, Tier 4, water-cooled diesel engine and 2 travel speed ranges....
Read More »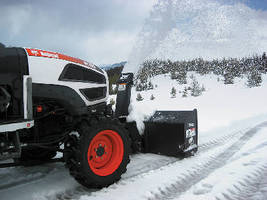 Available for CT120 and CT235 tractors, Models FCTSB49 and FCTSB62 feature cutting widths of 49 and 62 in., respectively. Discharge chute rotates hydraulically, so operator can redirect snow as needed. To operate front-mounted snowblower, tractor must be equipped with mid-PTO, loader joystick, and control valve. Snowblowers are suited for homeowners with acreage, landscapers, or buildings and...
Read More »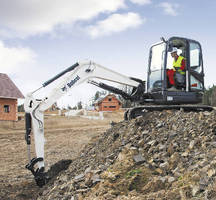 Equipped with Interim Tier-4 50 hp engine, Model E60 features dig depth of 13 ft, 7 in. and operating weight of 13,556 lb with rubber tracks. Engine control system has auto-idle feature that minimizes fuel consumption when machine is not working. Spacious cab has operator seat that adjusts 9 ways and heating/air conditioning system with automotive-style controls. With minimal tail swing, E60 can...
Read More »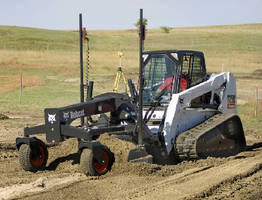 Available in 96 in. and 108 in. models, Heavy-Duty Graders are approved for Bobcat S300 and S330 skid-steer loaders; Bobcat A300 all-wheel steer loader; and T250, T300, and T320 track loaders. When used with laser-control system, grader attachments will grade material to within ±0.25 in. of desired grade. Hydraulic side shift moves blade up to 13 in. left or right for grading next to...
Read More »