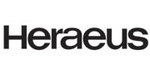 1520C Broadmoor Blvd.
Ste. F
Buford, GA 30518
Featuring back-mounted gold reflector, Shortwave Infrared Emitters offer heated lengths from 1-120 in., infinitely adjustable control, and linear power up to 400 W/in. They require practically no heating-up or cooling down times. With tube format of 23 x 11 mm, twin tube units feature filament temperature from 1,800-2,200°C and are designed for horizontal operation. They can be 1-side or...
Read More »
Twin-tube, Short Wave Infrared Emitter measures 23 x 22 mm and is rated up to 10 A with 55-480 V possible. It features gold reflector, single end connection, quick disconnect, and tool-free replacement.
Read More »
Suitable for all medium-wave applications, Carbon Emitters match temperatures to optimum absorption wavelength for each application, eliminating overheating and contamination of sensitive substrates. Standard units provide max output of 2.5 Â-µm, while High Power Carbon Emitters produce 3 µm. At irradiation of 120 W/in.², effective power density is 28 W/m². Units can...
Read More »