Graphite Metallizing Corp. - GRAPHALLOY
1050 Nepperhan Ave.
Yonkers, NY 10702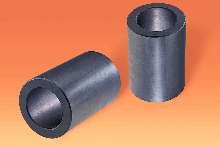 GRAPHALLOY® handles 300°F operating temperatures, requires no grease or oil, and maintains dimensional stability under load and submergence. Corrosion-resistant babbitt is available in standard pillow block and flange block assemblies, standard and custom bushings, and special designs. It can be used in potable water and food applications, and FDA-approved grades are available....
Read More »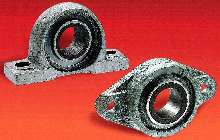 FDA accepted GRAPHALLOY® pillow blocks and flanges withstand high-pressure steam cleaning and solvent operations without damage or performance reduction. Graphite-metal alloy products eliminate oil and grease contamination, never need lubrication, operate in temperatures to 1,000°F, and can be immersed in liquids with causing contamination. Housing assemblies are furnished in styles...
Read More »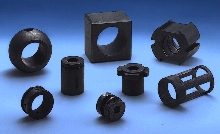 Custom designed GRAPHALLOY graphite metal/alloy self-lubricating bearings are available in over 100 grades with specific properties. They work in acids, alkalies, and hydrocarbons, and suit continuous operation in temperatures to 1,000°F as well as cryogenic conditions. GRAPHALLOY non-galling, corrosion resistant bearings allow pumps to survive run dry conditions, slow roll operation, and...
Read More »