1975 Noble Road
Nela Park
Cleveland, OH 44112
Share:
SHOWBIZ® HPL750/LL, available in 230 and 240 V, HPL375/C in 115 V, HPL375/C/LL in 115 V, and HPL550/C in 77 V optimize lighting system performance/maintenance in stage, studio, film, architectural, and theatrical lighting applications. All have heat-sink base with chromized seal protection up to 500°C and humidity-resistant base assemblies that avoid circuit tripping in normal/humid...
Read More »
Available in 45, 55, and 90 W models with 12 and 40° beam spreads, Ultra XL(TM) PAR Floodlights last up to 6,000 hours and are suited for indoor or outdoor lighting applications, especially hard-to-reach fixtures in driveway, walkways, patios, and decks. Designed to last 3,000 hours, Halogen Ultra family includes 60/75/90 Watt frosted incandescent shapes, 60 W clear incandescent shape, 45 W...
Read More »
Line Voltage MR16 combines low-voltage MR16 lighting with screw base by utilizing built-in transformer that converts low voltage to line voltage. Device provides accurate beam control and is rated for 5,000 hr life. Compact lamp is designed for retail display accent lighting.
Read More »
Providing consistently, bright white light over lamp life with accurate and defined beam control, 24 Volt Halogen Lamps minimize effects of voltage drop caused by line losses. Thick lamp filament helps prevent lamp failures due to shock and vibration. Suited for displays, wall washes, undercabinet lighting, and task lighting, 24 V solutions include 35 and 50 W ConstantColor Precise MR16's, 35 W...
Read More »
Using analog input from photocells or manual input from handheld programmer/PC, Dimming Control System can be used to reduce lighting load when lights are not needed. Algorithms appropriately dim lighting during daylight hours to optimize use of natural light and reduce energy usage. System features photocell inputs and controller capacity for up to 8 daylight optimization modules (8 I/O per...
Read More »
With 85 color rendering index, 20,000 hours of life, and slim design, T5 Starcoat is suited for variety of applications, including general or indirect lighting of display cases, wall washes, alcoves, and sign lighting. Product line is available in full array of options, including 14, 21, 28, and 35 W high efficiency models as well as 24, 39, 49, 54, and 80 W high output models.
Read More »
StreetDreams(TM) Pendant Series is comprised of tear-drop-shaped luminaries that recreate lighting design from 1930s and 1940s. While tool-less access to lamps, photoelectric controls, and ballast pods facilitates maintenance, sealed system prevents fishbowl effect caused by rain and moisture build-up in globe. Self-plumbing solutions can be mounted to either rigid or flexible arms and are...
Read More »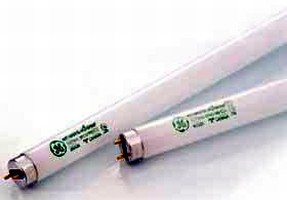 Designed for use on instant start ballasts and programmed rapid start ballasts, 2-ft GE F17 Watt-Miser® lamps output 3,132 initial lumens and consume 41 system watts in 3-lamp fixture. Similarly, 3-ft GE F25 Watt-Miser® lamps output 5,024 initial lumens and consume 58 system watts. Both TCLP-compliant lamps deliver 24,000 hr rated life at 12 hr/start to extend re-lamping cycle. Color...
Read More »