Munters Corporation - AirTech

79 Monroe St.
Amesbury, MA 01913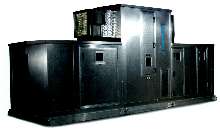 Integrated Custom Air Handler incorporates no-through metal design in either 2.5 or 4 in. wall thickness. Smooth-fitting panels create fewer joints, preventing leaks, while sloping roof eliminates standing rainwater. Doors are available in inward and outward swinging or plug design. Standard options include chilled water piping, refrigeration packages, filtration, full temperature and humidity...
Read More »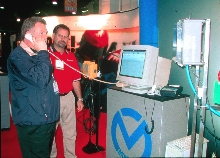 ExactAire system monitors operation of dehumidification, cooling, and heating equipment on job site, and alerts users of control failure. Capable of monitoring dew point, surface temperature, and relative humidity, system permits users to set desired parameters. Customizable alert messages are deliverable via pager, fax, e-mail, PCS, or telephone. Messages include alert condition and location,...
Read More »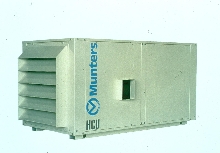 HCU desiccant dehumidification system treats 100 percent makeup air and works with existing A/C system or energy recovery ventilator (ERV). It controls humidity on as-needed basis, when humidity or temperature levels exceed set point. System removes humidity using combination of DX cooling and desiccant rotor. Nominal flow rate is 1000 scfm, with moisture-removal rate of 37.3 lb/hr at 90 degrees...
Read More »