125 Blue Granite Parkway
Ridgeway, SC 29130
Share: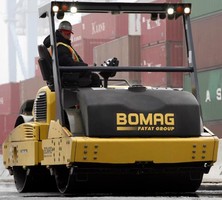 Redesigned Tandem Rollers from BOMAG Feature Improved Ergonomics, Productivity and Economics LAS VEGAS - BOMAG has redesigned its 66- and 78-inch tandem drum rollers to offer improved operator ergonomics and controls, better performance, and greater economy. The new rollers will be on display at CONEXPO-CON/AGG in Las Vegas, March 11-15, 2008. The new BW266AD-4 has a maximum centrifugal force of...
Read More »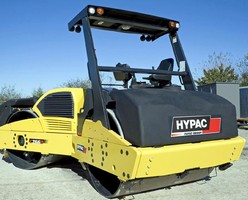 LAS VEGAS - The C766D and C778D tandem drum rollers from HYPAC feature a redesigned operator's cockpit that provides superior comfort and control, resulting in improved efficiency and productivity. The new rollers will be on display at CONEXPO-CON/AGG in Las Vegas, With an innovative sliding/swivel seat, the rollers' cockpit allows the operator to quickly adjust positions without switching seats...
Read More »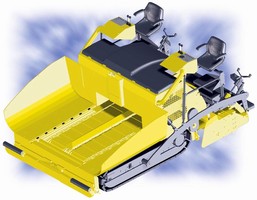 Weighing 20,500 lb, self-propelled BF6615 employs crawler-style track drive system undercarriage and can push asphalt feeder trucks while maintaining working speeds up to 180 fpm. Features include 9 ton hopper capacity; turbocharged, 99 hp Cummins water-cooled diesel engine with fuel-saving and noise-reducing ECO-mode; and load-sensing hydraulic system. Dual vibrators provide 2,500...
Read More »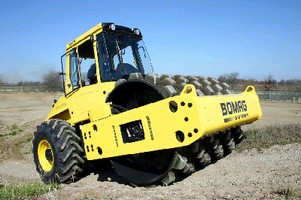 Featuring vertically opening hoods, 13-ton single-drum BW213-40 Series comprises smooth drum Models BW213D-40 and BW213DH-40 as well as BW213PDH-40 padfoot roller. Model BW213D-40 is powered by 133 hp Deutz water-cooled diesel engine, while Models BW213DH-40 and BW213PDH-40 are powered by 160 hp Cummins diesel engines. All deliver frequencies of 1,800 and 2,160 vibrations per minute, while each...
Read More »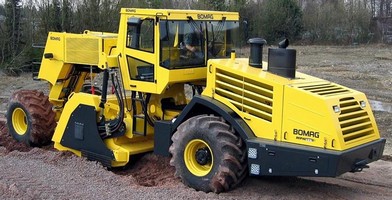 Model MPH125 is powered by turbocharged, 590 hp, Tier 3-compliant Deutz V8 diesel engine, equipped with electronic injection system, that drives 91.7 in. wide rotor. Rotor speeds from 90-130 rpm can be selected under load, and rotor's mixing chamber automatically adjusts with cutting depth. Operator station rises for normal operation and lowers to reduce overall transport height to 122 in., while...
Read More »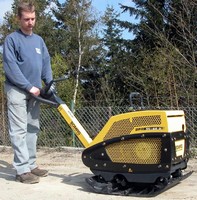 Suited for work on granular, cohesive, and mixed soils, models BPR35/60 and BPR35/60D are respectively powered by fully enclosed 5.4 hp Honda air-cooled gas engine and 4.16 hp Hatz air-cooled diesel engine. Vibratory exciter design lends to working speed capabilities, as well as gradeability, on all types of soil. Both models have max vibration frequency of 4,800 vibrations/min and heavy-duty,...
Read More »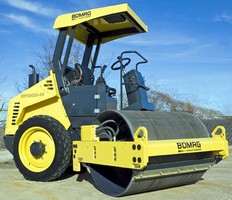 Featuring one 47 in. drum, BW124DH-40 smooth drum roller and BW124PDH-40 padfoot roller are powered by Tier 3 Deutz diesel engine and offer all-around visibility. Centrifugal force and amplitude are optimized for compacting granular and mixed soils as well as semi-cohesive and cohesive materials. While no-spin rear differentials and standard drum drive achieve optimal gradeability, bolt-on...
Read More »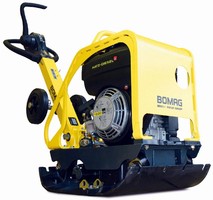 Measuring less than 16 in. wide, BPR25/40 series is optimized for maneuverability and centrifugal force. Honda 5.36 hp air-cooled gas engine powers BPR25/40, while Hatz 4.15 hp air-cooled diesel engine powers BPR25/40D. Featuring max frequency of 5,100 vibrations/min, both are suited for work on granular material as well as cohesive and mixed soils in landscaping, site prep, and other mid-size...
Read More »