2200 US Hwy. 27 S.
Richmond, IN 47374
Metal clad-rated for crush resistance, continuous aluminum armor cladding is available for standard or special cable constructions for instrumentation, control, VFD, as well as industrial communication and networking products. Armor eliminates need for conduit while facilitating installation and re-routing. Applied as continuous strip of aluminum, cladding wraps around cable and is welded at seam...
Read More »
Available on FOUNDATION Fieldbus/PROFIBUS PA, PROFIBUS DP, ControlNet Quad Shielded Coax, and Blue Hose Cable, Continuous Aluminum Armor Cladding eliminates need for conduit. Applied as continuous strip of aluminum, which is wrapped around cable and welded at seam, armor is MC-rated for crush resistance, impervious to fluid ingress, and suitable for installation in harsh and hazardous locations....
Read More »
Available in 250 MCM, 350 MCM, and 500 MCM sizes, Variable Frequency Drive Cables support installations of up to 250 hp motors at 460 V. Units are designed with symmetric bare grounds, dual copper tape shield, XLP insulation, and industrial-grade PVC jackets. For max safety, cables help protect system against damage from reflected wave voltages and capacitively coupled current. VFD cables are...
Read More »
Supporting data rates up to 10 Gbps, Lumberg Automation Gigabit Ethernet Connectors have special shielding that covers individual wire pairs, ensuring reliable data transmission even in presence of strong electromagnetic fields. Units support M12 or RJ45 connection technology and are available in both field-attachable and premolded versions. With IP67 rating and operating temperature of -30 to...
Read More »
Compliant with EN 50155, IEC 61373, and DIN CLC/TS 50467 standards, Lumberg Automation rugged M12 shielded railway connectors are 4-pin D-coding (ProfiNet) and come in molded (single- or double-ended) cordset or field attachable versions. Latter has threaded joints and spring-type terminals, while both feature Cat 5 and Cat 5e transmission characteristics to ISO IEC 11801 and TIA/EIA-568-B.2....
Read More »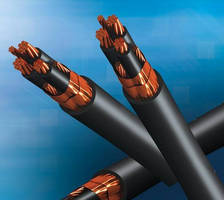 CSA Tray-rated VFD cable accommodates motor-to-drive connections, noise-sensitive applications requiring shielded power cable, and other solid-state power supplies with variable frequency needs. Decreasing effects of common mode current containment, capacitive coupling, and reflected wave voltage, cables range from 14-4/0 AWG and contain 3-stranded BC circuit conductors with 3 symmetrical BC...
Read More »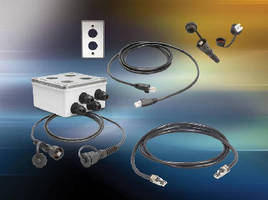 Made with Belden DataTuff Ethernet cables, Cat 6 Cord Sets provide industrial-grade connectivity for manufacturing in harsh environments. Units feature RJ45 plugs, are available in shielded and unshielded versions, and are suitable for IP20 or IP67 applications. Providing electrical stability, Bonded-Pair technology affixes individual conductors in each pair to each other along longitudinal axes,...
Read More »
Targeted for data-intensive power utility applications such as Smart Grid, Magnum(TM) 10KG Managed Switches include sub-10 ns timing precision on all Gb ports, dual hot-swappable power supplies in 1U or 1.5U rack-mount switch, and up to 16 additional ports, which can be configured to meet needs of each installation. IEC 61850-compatible units are housed in substation-hardened enclosure and...
Read More »
Equipped with dual hot-swappable power supplies in 1U rack-mount package, Magnum 10XTS offers 2 routing ports via T1/E1 card, as well as up to 8 Ethernet ports or up to 28 serial ports. Unit is designed to meet stringent IEC 61850-3 standards, with hardening required for substation applications. Featuring configurable IRIG-B time code standard support, server uses Magnum MNS-DX Network Management...
Read More »