Almag Aluminum, Inc.
25452 Brewer Drive, Ardmore, AL, 35739, USA
Latest New Product News from
Almag Aluminum, Inc.
Materials & Material Processing, Services, Software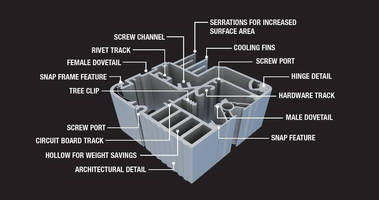 Nov 20, 2014
INSPIRE by Almag consists of 3D design tool that guides designers, architects, and manufactures in best way to utilize Extrusion Die technology advancements. To further aid in product design, onsite rapid prototype machine is available. Extrusion Die technology features that can be incorporated into aluminum extrusion include small, hollow cavities; wall thickness <0.040 in.; tongue... Read More
Other Company News from
Almag Aluminum, Inc.