Aprima Medical Software, Inc
3330 Keller Springs Suite 201
Carrollton, TX 75006
Share:
Provided as turnkey service and fully integrated with rest of dealer's digital marketing effort, PowerDisplaySM online display advertising solution delivers dealer brand messaging to automotive shoppers in dealer's local area. Pay-for-click model means dealer does not pay to show ad, but instead pays for traffic that advertisement brings their dealership.
Read More »
Data Recovery Wizard provides users with Complete Recovery function that enables total reclamation of data lost due to formatting of hard disk drive or portable storage device. Run under Windows 2000/XP/2003/Vista, 3 recovery modes rescue data in different situations: deleted recovery module restores deleted files, second module takes care of defective drives, and third module saves data from...
Read More »
Along with stability optimized via magnetic damping and StarFlex motion actuation, Vortex(TM) II exhibits frequency stability, minimal susceptibility to vibrations, and narrow linewidth to meet demands of atomic spectroscopy and laser locking communities. Design also results in reduced mechanical susceptibility, which increases stability without feedback.
Read More »
Creating 1 x 2 video display using two 50 in. monitors, ROTOLIFT(TM) DUAL ELU-50RX2 lifts one permanently mounted display out of protective case and allows screen to be rotated for horizontal viewing. Second display stores in same case and mounts to display frame. By combining multiple units, users can accommodate display needs of all sizes. Using 2 cases provides 2 x 2 configuration with viewing...
Read More »
Measurement Studio v8.6, Measurement Computing edition offers integrated suite of classes and controls for engineers using Measurement Computing hardware to create test, measurement, and automation applications in MS Visual Studio 2008/2005 and .NET 2003. While application development time is minimized via Windows Forms, Web Forms, and ActiveX UI components, additional tools include...
Read More »
NightWatchman v5.5 allows defining of company-wide power-saving policies, can schedule machines to wake up or power down, and save documents automatically. It includes NightWatchman Console, which lets administrators centrally control PCs, and Sleepless Client Detection that recognizes reasons for PCs not to enter low-power states and overrides them. Program can power down PCs across enterprise,...
Read More »
AX Series Advanced Traffic Manager appliances deliver functionality for application acceleration, global server load balancing, and virtualized management. Also included, aXAPI REST-style XML API facilitates and accelerates integration of administration functionality with in-house and third-party applications. Additional capabilities cover partition-based management, options for measuring remote...
Read More »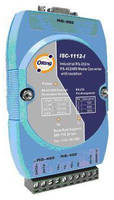 Offering 3,000 V isolation protection, ISC-1112-I and ISC-1212-I are industrial RS-232 to RS-422/485 serial media converters that support multiple baud rates and multiple data formats in addition to auto switch baud rate from 300-115,200 bps. RS-485 control is completely transparent to user, and software written for half-duplex COM works without any modification. Supplied in ABS housing, DIN-rail...
Read More »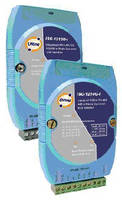 Intelligent and stackable expansion modules, ISC-1210U-I and 1310U-I, connect to PC USB port/hub to provide one RS-232/-422 or one RS-485 serial port. Powered by USB interface, products deliver auto direction flow control on RS-485 and support full-duplex transmission for RS-232/-422. RS-232 standard also supports handshaking signals such as RTS/CTS. Along with 3,000 Vdc isolation, products offer...
Read More »