Aprima Medical Software, Inc
3330 Keller Springs Suite 201
Carrollton, TX 75006
Share:
Nashua, NH, 12 January 2009 Centorr Vacuum Industries announced it is completing the manufacture of a 28 meter long precision vacuum annealing furnace for straight tubes and U-tubes for use in Nuclear Power Stations. The furnace is based on proven designs previously sold worldwide by CVI for vacuum tube annealing and degassing. The company has been providing this type of furnace to the nuclear...
Read More »
Electronica 2008, Munich, Germany (Booth A1.117) and Stevenage, England- Nov. 11, 2008-Aeroflex today announced several new product features for its PXI Modular Instrument 3000 Series that will provide users with a greater degree of flexibility than ever before. To meet customers' current and future RF testing needs, Aeroflex is advancing its PXI 3000 product line with the addition of a new...
Read More »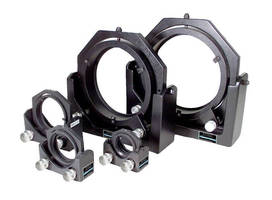 October/2008 Aerotech has now added manual optical mounts to its Fast Delivery Service guaranteeing a 5-day turnaround for urgent orders with no extra costs incurred. The AOM110 series covers 8 models for optical component diameter/thickness capability from 50.8 mm/12.7 mm to 304.8 mm/53.85 mm. With a pedigree of successful applications in major fusion and high-powered laser research projects, a...
Read More »
London, Tuesday 9 September 2008: Densitron's new range of Negative Mode LCDs is designed specifically to offer a brilliant display into the tight form factors of 1RU (1U) and 2RU (2U) rack size applications. The new range utilizes premium materials and excellent cell gap control. The 1RU panels accommodate the high graphic content of a 240 x 64 display packed into a module measuring only 34mm...
Read More »
Natick, MA, November 18, 2008 DataMan 100 now reads up to 128 codes in a single field of view Cognex-® Corporation (NASDAQ - CGNX), the world's leading supplier of machine vision systems and industrial ID readers, today announced new software that expands the decoding capabilities of the DataMan-® 100 vision-based ID readers and provides additional code support for all models in the DataMan...
Read More »
ATLANTA Drive Systems, Inc. is pleased to announce a new range of ISO 9409-1 flanged pinions, which have compact designs to reduce the amount of drive torque required. Traditionally, flanged pinions have large pitch diameters which increase the amount of torque on the reducer they mount to. With the new TR Pinion range, the pinion pitch diameters are significantly smaller, reducing the drive...
Read More »
January 5, 2009 Random Lake, WI - When a rental company came to Badger Tag & Label with the challenge of tracking their equipment inventory, Badger's solution was to create a perforated tag allowing for multiple tear-off parts in clearly identifiable colors. This tag allows the company to immediately see where each piece of equipment is in the rental cycle - just returned and requiring...
Read More »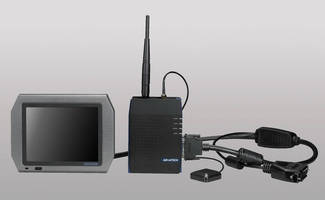 Irvine, California, Jan. 06, 2009 - Advantech, a global leader in embedded solutions and services, released two products today to enrich its Mobile Resource Management product lines. The VITA-350P, which is an ARM/Xscale, Windows CE Embedded, Mobile Data Terminal, and the TREK-305R, which is a 5.7 TFT vehicle-mount display panel. The combination of VITA-350P and TREK-305R makes a perfect fleet...
Read More »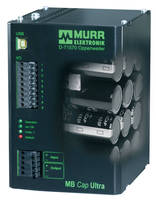 Duluth, Georgia, January 10, 2009 - Murrelektronik designed the MB Cap Ultra after noting an increased frequency of voltage drops in industrial processes was resulting in a considerable loss of time, money and process data. Capable of being integrated into new and existing power supply systems, the buffer module protects production processes and installations against voltage fluctuations that...
Read More »