The Light Side: Telepresence Robot Ends Days of Hooky-Playing
November 21, 2014
Plus: Visualizing a Day in U.K. Air Travel; and Mousr: The Intelligent Robotic Cat Toy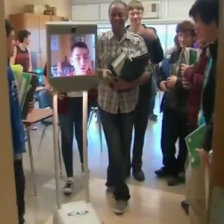 If you were to have had a fairly serious surgery, you probably would accept being sidelined and out of action for a little while. Maybe it wasn't his idea at first, but for Long Island student Jeffrey Kaji, missing school turned out not to be an option. After having emergency appendix surgery, Kaji, a high school freshman, was told by his doctor that he'd have to skip at least a week of classes at the Long Island School for the Gifted in South Huntington, N.Y. While Kaji is still unable to physically go to school, his mom has thought up a clever Plan B: His personal robot can take his place. Now, while Kaji is at home, a telepresence robot representing him rolls around from classroom to classroom, through the school halls, and even saunters into the cafeteria to hang out with his friends at lunchtime. Kaji's substitute has a big monitor screen that shows his face and is supported near eye level by two stanchions attached to a rolling base. A webcam on the robot sends images back to Kaji so that he can control the device using his computer mouse. The telepresence robot was developed by A+ Technology Solutions, which specializes in IT and AV/telepresence solutions  -- and where Kaji's mom works. She asked the company if it were possible for Kaji to borrow it and try it out while he recovered from his surgery, and the company obliged. "We see, long term, this can help with students who are disabled, people with physical handicaps," said Steve Cina, A+ Technology's spokesperson. "I think now we can offer it as a service to schools where they can rent or lease a robot for specific situations like this." So Kaji "zooms" around school from his bedroom via the gadget, noting, "I missed a lot, but over the past two days I've definitely made up a lot." Being "the kid robot," he's made lots of new friends also. "In the evening, when we sat at dinner and talked about his day at school, it was like he was at school," his mom said. "It was all the same stories, except now he's being mobbed because he's the most popular kid there." Kaji and his robot were featured on
Good Morning America
. Who said moms aren't cool?
Visualizing a Day in U.K. Air Travel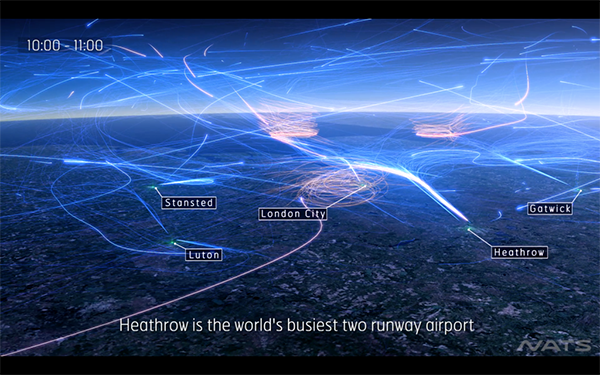 During its peak, U.K. airspace can see as many as 8,000 flights invade the airports and helipads strewn across its various islands. In fact, over the course of a year, some 2.2 million aircraft "movements" are tracked and guided by Britain's flight controllers. To highlight how complex (and beautiful) their work can be, a division of the U.K.'s traffic control operation, called NATS, created a stunning visualization of their work  and uploaded it onto Vimeo.
While most air traffic flows through the U.K.'s busy Heathrow Airport, NATS visualization features a number of surprising revelations. Most impressive might be the seemingly unending wall of transatlantic flights that bombard the isles every day. On the northern shores of the U.K., Aberdeen's helipads also play an oft-forgotten role in the dramatic tapestry of England's invisible infrastructure, ferrying workers and supply to oil rigs working the North Sea. Though smaller players certainly add a level of difficulty to the synchronicity of the U.K.'s air traffic system, the crown jewel of the operation has to be the impeccably coordinated holding stacks that float miles above Heathrow Airport.
Circling over London's main terminal and waiting for an opportunity to land, airlines from the Americas, Africa, Asia, and Europe are funneled onto the two runways of Heathrow Airport. Once on the ground, passengers spread out to connect with local flights, continental flights, and myriad spots both in and around the British capital.
Needless to say, the U.K.'s air traffic system is quite a beauty to behold. It boggles the mind to think that over nearly ever metropolis across the globe, a similar pattern is occurring in a single, coordinated rhythm.
Mousr: The Intelligent Robotic Cat Toy
David Jun, Dave Cohen, and Michael Friedman saw an opportunity for product improvement. They noticed that cat toys were sometimes programmed with random behaviors but also knew that cats didn't want random movement. Cats wanted their toys to act like prey -- prey reacts to being hunted -- so they decided that the perfect cat toy would also react.
Mousr is their solution -- a robotic cat toy that allows the cat to engage in its natural hunting patterns. As Ph.D. students studying electrical engineering at the University of Illinois, the team worked on the development of the toy and its intelligent movement. The bot is equipped with 360-degree vision to detect the cat's approach from any direction. Motion sensors allow Mousr to know when the cat is approaching and also if it has been caught by the cat. The project, itself, seems fully developed and polished. Gif files on the
Kickstarter campaign page
show incredibly detailed progressions of both the hardware and design iterations. Design and promotional materials are all over the page and the company's website. A smartphone app allows a pet owner to control Mousr itself -- playing with your cat is now a combination of video game and fighting robot. The team spent three months in China developing manufacturer relationships and refining the sensor technology. The intelligence built into the software will allow Mousr to learn specific behaviors of one cat and then adapt to it over time. Different cats will exhibit different behaviors and will also interact differently with the robot. Physically, the design of the body is also built to be interactive and evolving. Different tails can be attached, so your cat thinks it's chasing a different animal every week or month. Mousr's eyes tell you if he's in hunted mode or needs more battery. A hidden speaker can attract your cat to start a new round of hunting. Mousr is an incredibly high-tech robot built for a very specific purpose. The campaign video is well done but incredibly irreverent while still giving the important information. This is definitely the first time I've seen a rap involving three Ph.D.s and a robotic mouse. A video of Mousr is on
YouTube
.
This and the previous article were originally published on Engineering.com and are adapted in their entirety with permission. For more stories like these, please visit Engineering.com.