The Light Side: Fourth of July 2014 By the Numbers
July 3, 2014
App Tells You Best Potty Break Chances During Movies
For Sale: Doctor's Notes for Sudden Case of World Cup Fever
Mentos Vest Plus Diet Coke Tank Equals Epic Reaction
Tomorrow, America celebrates its 238th birthday. As everyone is preparing to enjoy a long weekend of fireworks, parades, backyard barbecues, and general relaxation, the Census Bureau has released its yearly "Profile America Facts for Features" in honor of Independence Day. Without further ado, here are the facts and nothing but the facts:
318.4 Million
The nation's estimated population this July 4, compared to 2.5 million in 1776.
$213.8 Million
Value of fireworks imported last year.
$781,222
Value of U.S. flags exported last year. The Dominican Republic was the leading customer, purchasing $160,000 worth of flags.
59
The number of places in the United States containing the word "liberty" in their names. Examples include Liberty County, Ga. (pop. 64,135) and Liberty State Park in Jersey City, N.J. Pennsylvania has 11 such places, most of any state.
$100 Billion
The value of total trade between the United States and the United Kingdom -- from which we declared independence in 1776. The U.K. is America's seventh-biggest trade partner. Won't be included in this trade soon is the Gordon Ramsay TV export
Kitchen Nightmares
,
which is ending
62.9 Million
The estimated number of hogs and pigs in the United States as of March 1. Iowa leads states with 19.8 million, followed by North Carolina (8 million) and Minnesota (7.8 million).
6.1 Billion
Total estimated production of cattle and calves in Texas last year. One in six beef hot dogs, steaks, and burgers on America's backyard grilles came from the Lone Star State.
56
This could be Joe DiMaggio's consecutive-game hit streak, still unbroken after 73 years, but since it's July 4, it's the number of signers of the Declaration of Independence. Thomas Jefferson, regarded as the strongest and most eloquent writer of the founding fathers, wrote most of the document. John Hancock was the first signer.
App Tells You Best Potty Break Chances During Movies
Ever stop yourself from buying a beverage at the theater refreshment stand because you're afraid of missing the best part of a movie by having to run to the bathroom? A recently released app is promising to be moviegoers' bladders' best friend by alerting the most opportune times during each movie to make a break for it.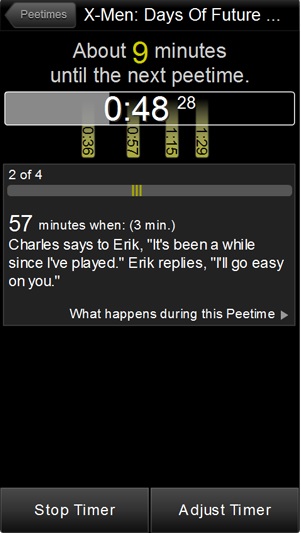 At the start of a film, the user hits the timer on the app to sync up with the movie, and RunPee then vibrates the phone (assuming the user has considerately set it to shake) before each "peetime." With each peetime, the app presents an on-screen quote that lets the user know the exact moment to leave the seat (remember, you're on the clock), as well as a short synopsis of the peetime moment in case the user really wants to know what happened in the unimportant, missed part. RunPee is the brainchild of Dan Florio. His great idea came after he squirmed through three hours of
King Kong
in 2005 on a full bladder because he did not want to miss any key part of the movie. "I kept thinking, 'I wish they would just kill this ape so that I could go to the men's room,'" he told
ABC News
He sat on the idea until 2008, when he launched
RunPee.com
Florio, being an avid moviegoer, says he sees most of the movies that are out, so he offers his own peetime commentary along with recommendations. He also threw in a few extra app features, including whether there's anything after the end credits worth sticking around for and a 3-minute opening synopsis for a movie in case a user miscalculates his or her time at the concessions.
For Sale: Doctor's Notes for Sudden Case of World Cup Fever
On Tuesday afternoon, America basically stopped what it was doing to watch Team USA battle Belgium in the World Cup, and for those who were supposed to be at their jobs, they all came down with a sudden case of fever -- soccer fever. With American soccer experiencing a coming of age during this World Cup, by the next tournament in 2018 in Russia, more Americans will be prepared, i.e., equipped with fake doctor's notes to play hooky and watch more inconveniently scheduled matches. They can learn a bit about this from the Chinese. In China, this year's World Cup has created a cottage industry of fake sick note sellers,
according to CNN
There's less likelihood of Americans continuing to skip work to catch World Cup action, as Team USA was eliminated by the Belgians in extra time, 2-1 -- but not before being the only squad thus far in the tourney to have scored a goal against them. Although it would have been nice to celebrate America's birthday with a national team win, the Americans went down kicking with a furious late rally and goalkeeper Tim Howard making a World Cup-record 16 saves. One thing's for sure. With the rise of soccer in the country, Americans will be ready to get behind the national team again in 2018 -- with doctor's notes in tow.
Mentos Vest Plus Diet Coke Tank Equals Epic Reaction
The
Diet Coke and Mentos reaction
Nowadays, science teachers around the country are demonstrating the reaction in classrooms as a fun way to teach physics and chemistry. Countless others are messing around with candy and soda for effervescent kicks. The folks at Epic Meal Empire wanted to take it to the next level, though. Forget the silly soda bottle tricks; that's kid's stuff. Instead, they outfitted a guy in a Mentos suit -- hundreds of the poppy candy tacked onto a vest -- and dunked him in a tank of Diet Coke. Watch what happens: [youtubehttps://www.youtube.com/watch?v=jlN2C5ExQqs[/youtube And on that explosive note, Happy Fourth of July, everyone, and enjoy the fireworks!
Top photo credit: nirots at FreeDigitalPhotos.net