The Light Side: Have No Fear, the Science Brigade Is Here
April 18, 2014
A Mini-Robotic Printer Named Zuta
Warning: The Following Vintage PSAs Contain Graphic Content
Call them armchair quarterbacks. Hacks. Even groupies. But the citizen scientist brigade is coming, and it is lending a big helping hand to professional and academic researchers inundated with projects. A
report by Newsweek
One of the sites highlighted,
Kaggle
"It becomes a popularity contest," Kevin Campbell, a biologist at the University of Manitoba, told
Newsweek
's Gabrielle Jonas, who writes that on science crowdsourcing sites that enable members to pick and fund projects, even contributors to proposals that don't get kick-started can have their egos stroked with real, tangible prizes and acknowledgements in professional science journals. These citizen scientists, however, are investing real time, performing real work without being paid, and delivering results, sometimes with unexpected, eye-opening speed. Jonas writes that they solved a monkey virus similar to HIV in 10 days that scientists didn't figure out for years. She also reported that photo evidence submitted by weekend warriors was of equal quality to that produced by professional field researchers. These informal collaborations are not unlike an amateur astronomer discovering a new planet and excitedly submitting images to the local observatory in the old days. And criminal investigations have sought the public's help to solve mysteries for years. So why is citizen science becoming mainstream? Limited time and resources. Jonas writes:
Sharing the expense and workload of long-term field research with willing neophytes is a godsend to astronomers, geologists, marine biologists, and climate scientists - all of whom are inundated with the dizzying amounts of data churned out by satellite images. It's also a huge boon to geneticists, who are often overwhelmed with the amount of unique pieces of data that result from large-scale DNA sequencing. They're itching to crunch it all, but simply can't on their own.
"We have not near enough time to analyze [hundreds of millions of DNA sequences. With crowdsourcing, you can get the public to do the work for you by making a game out of it," Campbell said. Kaggle founder Anthony Goldbloom said science crowdsourcing allows "people who don't happen to have a Ph.D. working full time at university a chance to solve really challenging and important problems that benefit society." And as Jonas writes, the work of some citizen scientists was so impressive that they were solicited to "graduate" and work professionally.
A Mini-Robotic Printer Named Zuta
The team from Zuta Labs Ltd. wanted to bring printing into the 21st century. They required the printer to be easily accessed through wireless communication but small enough to be portable. The Zuta printer is the robotic solution, currently running a
Kickstarter campaign
Zuta is driven by an omni-wheel system, a configuration familiar to veterans of FIRST Robotics. The polycarbonate shell is shaped to help the user place the printer at the top corner of the page for repeatable, accurate printing. The first Kickstarter round of printers will weigh about 300 g, with an 11.5-cm diameter and 10-cm height. A USB port in the bottom of the printer holds the lithium polymer battery. The battery will run for one hour off a three-hour charging time. Computers should recognize Zuta as a printer because it uses the BPP protocol. Android and iOS apps are being developed so that any Bluetooth device can control the printer.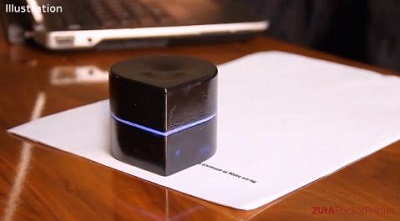 Zuta started as a college project for Matan Caspi and Tuvia Elbaum at the Jerusalem College of Technology. They were tasked with creating a sustainable business plan around a new idea. Early funding came from the Friedberg Entrepreneurship Program for proof of concept modeling and early prototype builds. Early estimates tell us that more than 1,000 pages can be printed with one standard HP inkjet cartridge. The speed is estimated to be 1.2 pages per minute, with a print quality of up to 96 by 192 dpi. Paper size can be set in the Zuta control interface, and any size paper should be printable. The idea for the Zuta is awesome and revolutionary. Backers of this project will pay around $200 for a printer that is estimated to be available in January 2015. The campaign has received $350,000 of its $400,000 goal in the first week and should have no problem meeting its funding target. Zuta is very ambitious with its scope, but the technology and manufacturing ideas all exist today. The Kickstarter video is very well done, but I would love to see what happens when the Zuta gets to the end of a line of text and has to return to the left side of the page.
This article by Tom Spendlove
Warning: The Following Vintage PSAs Contain Graphic Content
Last week on The Light Side, researchers at the Massachusetts Institute of Technology discovered that
our sneezes and coughs
The image on the left is a circa-World War II public health poster and part of a compilation of now-creepy vintage public service announcements (PSAs) that pop-science site
io9
Another poster that you will not be able to undo from your mind is a malaria warning reminding the exhibitionist in you to always keep your clothes on. Have a great weekend, everyone!
Top photo credit: think4photop at FreeDigitalPhotos.net