What's Behind the Well-Known Purchasing Managers Indexes
December 3, 2013
Every month, a deluge of data on manufacturing and production is released, which businesses rely on to make important decisions. However, the data from a variety of sources do not always paint the same picture, even when they are supposedly tracking the same metrics. 
Purchasing managers indexes (PMIs) provide key economic indicators based on monthly surveys of purchasing and supply executives. The best-known producers of PMIs are the nonprofit Institute for Supply Management (ISM) and Markit Group, a commercial firm. Both organizations produce PMIs focused on U.S. manufacturing.
The two PMIs often differ somewhat in outlook -- a difference which could be attributed to their use of distinctive survey panels and to the different ways each organization calculates its indicator.
The ISM and Markit PMIs are diffusion indexes. They combine several indicators into one that is constructed to reflect a general trend. Both use surveys to rate conditions at several hundred manufacturing firms and to assess month-to-month changes in economic conditions. Survey respondents are asked to rate the conditions they observe in several areas, simply indicating where each condition is "better," "same," or "worse."
The PMI is calculated in such a way to measure how the changes are dispersed among the members of the survey panel. A PMI of 50 indicates no change, while readings above 50 signal improvement and those below 50 signal deterioration. The greater the measure varies from 50 the greater the rate of change is being indicated, i.e., acceleration or deceleration.
Bradley J. Holcomb, chair of the ISM Manufacturing Business Survey Committee, told IMT that simply following the monthly PMI number isn't the best way to obtain value.
"Our report is about 10 pages long, and people in business and industry are best served if they read the entire report," he said. "It contains the number. But it also includes verbatim responses from people in various industries.
"It gives you a feeling about your particular industry and all of the 18 industries that we track. You get to see what it means, not just in terms of the one number but broken down, sliced, and diced. You see how the numbers are built and how they relate to the overall economy, to manufacturing, and to each industry."
ISM, based in Tempe, Ariz., develops its Manufacturing Report on Business through a monthly survey of about 400 companies. Respondents rate the business activity in their firms according to five indicators, with each factor given equal weight at 20 percent: New Orders, Production, Supplier Deliveries, Inventories, and Employment.
London-based Markit Group's PMI survey panel numbers about 600 companies. Its PMI is a composite of five individual indexes given various weights: New Orders weighted at 30 percent, Output at 25 percent, Employment at 20 percent, Suppliers' Delivery Times at 15 percent, and Stocks of Items Purchased at 10 percent.
ISM's PMI registered 57.3 percent for its November 2013 Report on Business for the U.S. manufacturing sector. Released yesterday, it indicated that manufacturing activity expanded for the sixth consecutive month and the overall economy grew for the 54th consecutive month.
ISM's Holcomb said that Federal Reserve Chairman Ben Bernanke is one of the first people in the country to receive ISM's report each month.
"Bernanke wants to know what's going on before anyone else," he said. "The PMI is recognized as one of the leading economic indicators and one of the first published each month showing what's going on in our factories, which can then be imputed to what's going on in the economy at large."
However, the report is useful on a more-focused level, as well, Holcomb added.
"The report shows what commodities are in short supply and indicates trends," he said. "We see corrugated boxes going up now. If you're buying corrugated boxes, you need to know that so you can make your business decisions accordingly."
In October, Markit's PMI for U.S. manufacturing fell to its lowest level in a year, which the company said signals only modest growth for the sector. The PMI came in at 51.1, down from 52.8 in September.
"The principal factor behind the lower headline PMI index was a drop in manufacturing output, which fell for the first time in over four years during October," Markit reported. "This drop was, in reality, slight but was "in sharp contrast to the solid increases seen in previous months."
Panelists told Markit that weaker domestic demand led to slower order growth in October.
Chris Williamson, Markit's chief economist, commented in the company's announcement that the October PMI "provides the first insight into how business fared against the backdrop of the government shutdown in October, and suggests that the disruptions and uncertainty caused by the crisis hit companies hard."
Williamson said he expected this drop-off to be reflected in lower gross domestic product (GDP) for the quarter.
Decision-makers at U.S. manufacturing firms would do well to follow both the ISM and Markit PMI reports, as both have value. Where they closely correspond could indicate greater confirmation of their findings. When the two indexes diverge in a given month, managers should give extra scrutiny to the details of the reports, keeping in mind that the two organizations use different survey panels and give different weights to the components of their PMIs -- and that ISM focuses particularly on the U.S. economic picture, whereas Markit tracks global trends.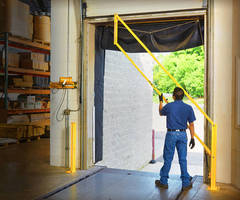 Safety & Security Equipment
Industry Market Trends