Retailers Bet Big on Green Construction
July 21, 2010
While it's no secret that the job market in the U.S. remains stagnant, the results from a recent survey conducted by GreenBiz.com reveals the green economy is showing signs of steady growth. Hiring is picking up steam, companies are spending more on environmental efforts and sectors like retail, are ignoring the economic crisis and pushing forward with LEED certified building expansions.
According to the GreenBiz survey, 35% of large businesses cite customer requirements as the top factor determining their green agenda while 25% cite company leadership. Other highlights from the GreenBiz survey include:
70 percent of companies with revenues under $1 billion report that their 2010 spending will either remain steady or increase over 2009.
Large companies, in particular, are increasing headcount for environmental and sustainability roles. In early 2009, 27 percent of large companies reported hiring freezes and only 8 percent planned to increase headcount for environmental departments. Today, only 11 percent report hiring freezes and over 28 percent plan to increase headcount, a major swing.
Reducing energy use through efficiency measures continues to be the primary environmental initiative for companies of all sizes. Thirty-four percent of large companies and 26 percent of smaller companies view energy reduction as their most important environmental initiative
The last point of reducing energy is not lost on retailers as
a recent article from Retail Traffic Magazine points out
. Here's more, from the article:
Developers and architects say that even as the pace of build outs has slowed, they're not wavering in their resolve to pursue sustainable, environmentally friendly projects. Furthermore, when the economy bounces back, they expect that retail will be greener than ever.
 "I think now green in retail is just a matter of course—it's just the business," says David Avila, principal of Avila Design in Berkeley, Calif. "It's not something that really has to be sold anymore…. There's willingness and desire to do it just because it's the right thing to do."
But there are additional motivations for retailers to go green, according to developers and architects cited in the article. Some tenants require sites that reflect green awareness, like REI, Whole Foods and L.L. Bean, "who wear their earth-friendly philosophies on their sleeves." In addition, retailers who want LEED-certified spaces look for malls and centers that are also LEED-certified, as USBGC now keeps these certifications separate, according to the article.
While specific figures that track how much green construction has grown is difficult to dig up, the U.S. Green Building Council, which oversees the LEED standards for green building, reports that there are now 2,600 registered projects in the retail sector.
What do you think? Will retail help lead the way to a more sustainable future?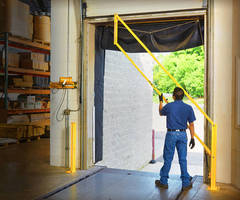 Safety & Security Equipment
Industry Market Trends