Most Americans Desire a Career Change, But Face Key Barriers
July 30, 2013
Millions of U.S. workers quit their jobs each month, and now a new survey reveals why they are not looking back: 55 percent of working adults want a new career. Those who want to quit also identified the top barriers that are getting in the way of their occupation change. Here is a closer look at the findings.
Over 1,600 working U.S. adults took the Harris Interactive
survey
, on behalf of the University of Phoenix, with nearly a quarter stating that they are "extremely" or "very interested" in a career change. Just 14 percent of American workers have found their dream career.
The responses also highlighted a significant disparity between age groups' desire to change careers. The youngest workers are the most likely to want a career change: 78 percent of twentysomethings want to change their careers, while 64 percent of workers in their thirties want to switch career gears. Just about half of workers in their fifties, (51 percent), and 26 percent workers in their sixties say they are ready for a new profession.
It is not uncommon for working adults to consider one or multiple career changes, according to University of Phoenix president, Dr. Bill Pepicillo. "Choosing one career path after high school or college and sticking with it for the rest of a career is becoming less common as the pace of business and technology quickly change jobs and industries," he said.
Top Barriers to a Permanent Career Switch
In May, nearly 2.2 million Americans willingly left their jobs, according to recent Bureau of Labor Statistics data. While this is a high number, a recent report by the Wall Street Journal emphasizes how this figure is actually far lower the three million per month who quit their jobs before the recession."Employees still aren't jumping ship and seeking higher pay in new jobs, probably because they aren't confident they can quickly find something after leaving their current employer," the article notes.
To that end, the Harris survey found that over half (57 percent) of employees report a lack of financial security as a top barrier to switching careers. Another 40 percent said that they are uncertain what career they would select next, and 37 percent admitted that they lack adequate education or experience.
Age is also getting in the way of a career change: 31 percent of workers consider themselves "too advanced" in age to change their careers. And 32 percent of workers simply hesitate to change occupations over fear of the unknown.
Are you thinking of a career change? Why?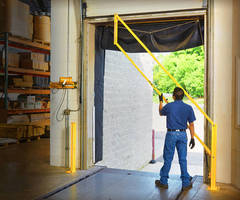 Safety & Security Equipment
Industry Market Trends