The Right Combination for Winning Engineering Employment
July 23, 2014
Pairing competitive compensation with worker preferences to attract and retain the best engineers will be a growing requirement for employers in the coming years. With a tight labor pool, going beyond compensation includes an engaging and fulfilling work environment. It's no secret that engineers across the world are in high demand. In the United States, by 2023, there will be close to
250,000 new jobs for engineers
For example, there will be close to 46,000 civil engineering jobs in the coming years, followed by about 26,000 mechanical engineering jobs. Architectural and engineering managers, as well as industrial engineers, can expect to see close to 20,000 more jobs in each of their fields. As a result, salaries reflect current and the continued high demand for engineers that's expected. The median income of engineers, at $85,000 annually, is twice that of other occupations ($45,000). The top-three-paying engineering occupations -- petroleum engineers, architectural and engineering managers, and aerospace engineers -- can easily command six-figure salaries right out of the gate. And yet, there is a sobering reality for employers who have the jobs and the money: They don't necessarily have the engineers to give it to. In the United States, the quest to find qualified engineers remains a very real challenge for organizations. College enrollment for engineering is not keeping up with demand, and Baby Boomers are retiring in record numbers, which is only adding to the void. Indeed, plentiful job opportunities and high salaries are no longer enough to attract the shrinking pool of quality talent that so many engineering organizations crave. The secret is that engineers, for decades, may not have been doing their jobs for the paycheck anyway. Those engineers who are truly at the top of their game have always been driven by other things that are much less quantifiable but nevertheless deeply personal: satisfaction that is deeply rooted in their daily tasks, the knowledge that what they are doing can truly change the world, and the ability to create and grow within their chosen profession.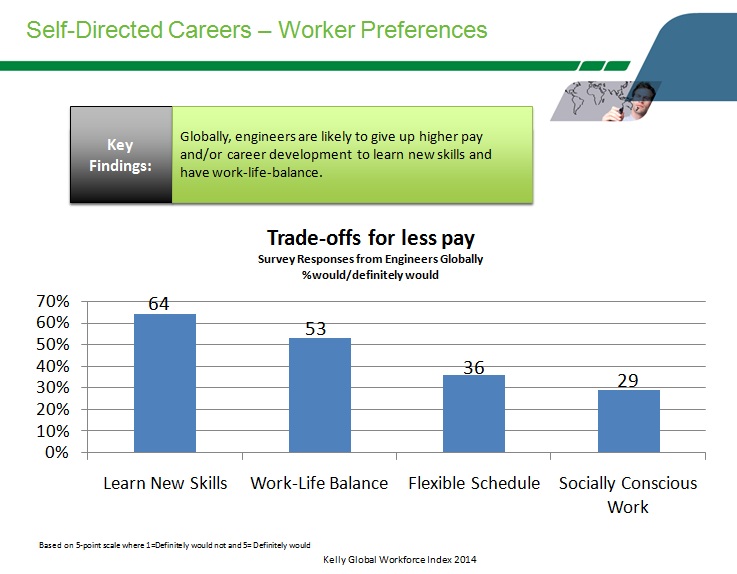 As the world of work has come to recognize that the daily grind is about so much more than a paycheck, numerous studies today are proving that it's no different for highly paid engineers. In other words, if the lure of a high salary and extreme stability went away tomorrow, what would keep engineers coming back every day to their jobs? The latest
Kelly Global Workforce Index
The takeaway for employers, especially in an industry with rapid growth, is that addressing these preferences within the workforce can mean the difference in retaining the best talent versus watching it slip through their hands. In the KGWI, engineers across the globe were asked about their willingness to give up higher pay and/or career growth and advancement if other factors were at play. The number-one reason participants gave that would propel them to do so was the possibility of learning new skills. Other reasons included a greater work/life balance, a more flexible schedule, the opportunity to start a business, and the opportunity for more socially conscious work. Of course, every engineer ultimately is responsible for seeking out these kinds of career opportunities. We are all our own best advocates when it comes to being happy and fulfilled on the job. But employers can also appeal to these non-monetary desires and preferences in unique ways that would demonstrate to the workforce that an organization is committed to going beyond compensation in order to attract and retain world-class engineering talent. It can be as simple as first establishing an environment where open dialogue on what the ideal engineering career within the organization could look like. Through this dialogue, if an employee comes up with an idea to enhance the job while maintaining productivity, an employer can bless that initiative -- and give the employee time to carry it out. Another small step is to analyze the way people get work done in the first place. Is telecommuting an option? Is a flexible work schedule possible? Can an employer start to feel safe in the notion that if the work gets done well, where and when it gets done may not necessarily matter? There's no doubt that engineering employers are in a sweet spot already in their ability to offer workers amazing financial compensation. But just think of the potential result if they were able to go beyond that one detail by offering employees a real opportunity to seek happiness on the job that goes beyond financial reward. It's a combination that could pay off for years to come in the future as the competition for the best engineering talent inevitably grows. Establishing more measured ways of fulfilling employees' desires and preferences is a long-term investment that organizations should be making now, like developing specific programs with specific goals that the workforce can work toward. It's not a one-size-fits-all proposition. If an organization's program stands out and gains a good reputation among job-seekers, they may be more inclined to put that organization at the top of the list of employers that understand the workplace can -- and should -- deliver more than a competitive wage. For engineers and engineering employers alike, what are your preferences at work beyond salary? Do you consider them important to the job -- and how does your organization incorporate these non-monetary elements of work, if at all? I'd love to hear your feedback in the comments section.
READ: Kelly Services Engineering Employment Outlook
Top photo credit: Kelly Services
Tim McAward is vice president and engineering product leader for Kelly Services Inc. He has responsibility for branding, market positioning, "go-to-market" strategies, and profitability in North America. Tim holds a B.S. in finance from Arizona State University and an MBA from St. Edward's University in Austin, Texas. Kelly Services